Market's Vision of Sharp and Shallow Fed Hike Cycle May Be Wrong
(Bloomberg) -- Traders are betting the Federal Reserve will be forced to raise interest rates faster than it expects, and then quickly stop. They may be wrong on both counts.
It's widely anticipated that the central bank will announce the tapering of its massive bond buying program on Wednesday. Interest-rate swaps linked to Fed meeting dates show a good chance of the the first rate hike coming in July, with around 22 basis points priced in, and around half a percentage point of tightening coming by the end of 2022. But the odds also see the Fed failing to lift its policy rate above 1.6% over the entire cycle, well below the Fed's projections of a neutral rate of 2.5%.
Some investors and former Fed staffers aren't so sure. Krishna Guha, vice chairman of Evercore ISI who was an adviser to William Dudley when he was head the New York Fed, says the rates market is getting it wrong on both sides - especially with U.S. stocks near their all-time highs. Stephen Jen, the chief executive officer of Eurizon SLJ Capital, goes even further, saying the market's very low pricing of the peak policy rate is "ridiculous."
While the rate markets backdrop seems to show "fear that central banks have boxed themselves into a corner and will be forced into hawkish policy mistakes that end up generating a weak economy, that is hard to square with strength in equities and credit," Guha wrote in note with his colleague Peter Williams on Nov. 1.
Indeed, traders appeared to be getting nervous about aggressive hawkish positioning Tuesday, as the two-year Treasury yield plunged.
"Some more hiking than we saw previously will likely be warranted, but relative to market pricing, our bias is a bit later, a bit faster and a bit further," Guha and Williams wrote. They predict the first rate increase will come in December 2022.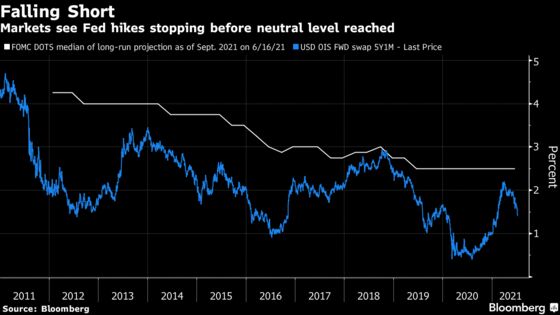 Fed Chair Jerome Powell -- who is due to speak again later on Wednesday after the central bank's  policy decision -- recently acknowledged that there "clearly" are upside risks for inflation, but he still stuck with his base case that price pressures will eventually ebb as the global economy works out its supply-chain kinks. He's also stated that the central bank's bond buying will be done by mid-2022.
Many doubt the market's conviction that Fed tightening will derail the recovery, as is implied by the low terminal value in the forward market and the recent bout of yield-curve flattening. 
The Fed rate-hike guessing game is coming amid a wave of other major central banks turning surprisingly hawkish. That's helped collapse some sections of the Treasury yield curve to the narrowest since March 2020. 
Reserve Bank of Australia Governor Philip Lowe ditched his 0.1% bond-yield cap on Tuesday, setting the tone for central bankers worldwide who are struggling to convince traders and households that they won't let inflation get out of control. 
The U.S. five-year breakeven inflation rate surged last week to the highest since the maturity was reintroduced in 2004, although it's pulled back recently. That has pushed real rates downward, leading many to conclude that the economy is indirectly getting more support even as the Fed appears ready to start scaling back it's bond-buying program.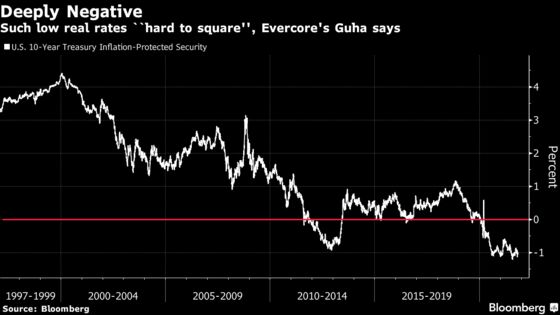 "The market's pricing of the U.S. terminal rate is way too pessimistic," said Jen, who studied under Nobel laureate Paul Krugman and the late economist Rudiger Dornbusch. "The U.S. economy is not that vulnerable."
Eurizon's Jen developed in 2001 the now well-known "dollar-smile" theory, which predicts gains for the U.S. during times when the economy is either in a deep slump or growing strongly, and underperformance for the dollar during times of moderate growth. He's bullish on the greenback now and sees more upside for U.S. equities as well.
"In fact the Fed touching the brake doesn't even mean touching the brake when you have inflation higher, because real rates are going down," Jen said. "So one could argue that the Fed has effectively eased in the last six months because inflation had exploded."