Market's Virus Panic Makes Last Year's Preemptive Fed Easing Look Futile
(Bloomberg) -- Traders are behaving like they've already forgotten last year's preemptive Federal Reserve rate cuts.
Updates on the coronavirus's global spread have caused strains in U.S. markets to return to late-2018 levels, according to a Bloomberg index of U.S. financial conditions. That bout of volatility 14 months ago, stirred by concerns over the U.S.-China trade dispute, set the Fed on a path to 75 basis points of easing.
Now, it's as if that stunning policy shift never happened. Treasury yields are posting their biggest weekly drop since 2008 and U.S. stocks have sunk more than 10%. The Fed hasn't said it will definitely take action, but futures markets show traders expect almost 100 basis points of easing in 2020.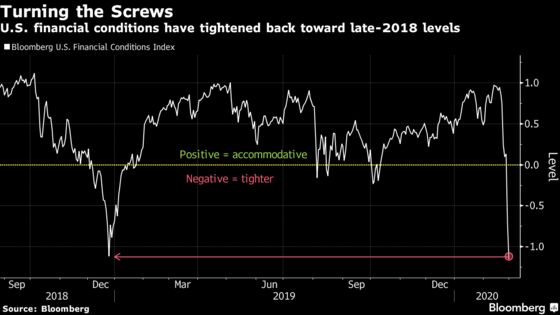 The president of the Fed's Chicago branch, Charles Evans, said Thursday that "it would be premature, until we have more data and have an idea of what the forecast is, to think about monetary policy action." St. Louis Fed President James Bullard, who doesn't currently get a vote on central bank policy, on Friday said he would back rate cuts if the virus becomes a global pandemic, but said it's premature for that.
Ward McCarthy, chief financial economist at Jefferies LLC, this week described some of the Fed's comments as "borderline defiant." The Fed wasn't able to maintain that stance for long last year.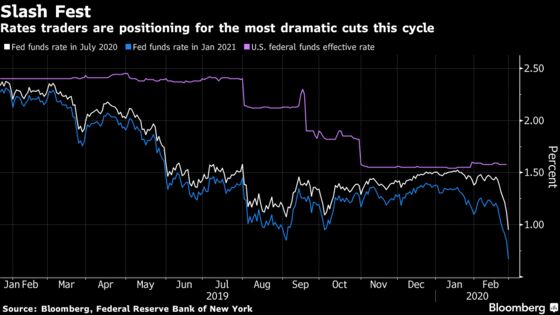 And meanwhile, fed fund futures contracts are pricing far more dramatic action from the central bank than they did last year, with a quarter-point cut priced for March and close to a full point this year. That would take the target rate as low as 0.50%-0.75%, at which point policy makers are worryingly close to having no further room to ease.
"The difficulty becomes if they don't actually deliver a rate cut, how will risk assets react?" said Subadra Rajappa, head of U.S. rates strategy at Societe Generale, who's expecting 75 basis points of easing this year. "They're between a rock and a hard place."