Marathon CEO Cites NYC Costs, Covid, Crime for New Miami Outpost
(Bloomberg) -- Marathon Asset Management is setting up an office in Miami as the Covid-19 pandemic upends New York City as a financial hub, according to co-founder and Chief Executive Officer Bruce Richards.
"Marathon South will be an option for our employees," Richards said in an interview on Bloomberg Television Wednesday. The Miami office will mainly be for non-investment professionals and the investing team will remain in New York, he said.
"I'm certainly committed to New York City," Richards said. "I love New York City." But he sees cities like Atlanta, Nashville and Charlotte benefiting from travel and business in the next few years, with New York not as attractive as it once was. Lower taxes and less crime outside of New York will also lure companies elsewhere, Richards said.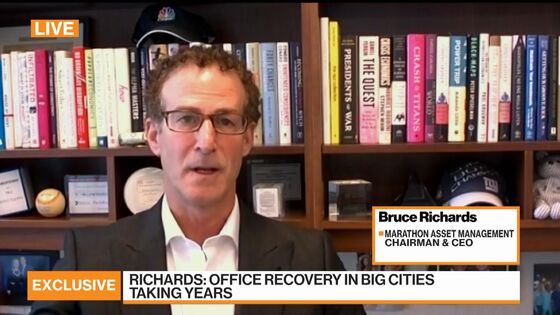 The distressed-debt specialist looked at Charlotte, Atlanta and Miami as possible locations for another office, ultimately choosing the Florida city, he said. Marathon has had a presence in New York, London and Tokyo, according to its website.
Marathon follows peers like Balyasny Asset Management and Bluecrest Capital Management in establishing an office outside of New York City as the pandemic pushes office dwellers to work from home for the foreseeable future. Currently 20% of Marathon's workers are in the office Monday through Thursday, with 10% on site on Friday, he said.
"New York is not what it once was," he said. "Vacancy rates are going to go up, and it's going to be ugly for property owners."