Manhattan Rents Rise for the First Time Since Covid's Early Days
(Bloomberg) -- Manhattan apartment rents climbed for the first time since the early days of the pandemic.
The median rent rose 5.9% in September from a year earlier to $3,216, appraiser Miller Samuel Inc. and brokerage Douglas Elliman Real Estate said in a report Thursday.  It was the first increase since May 2020 and the biggest since December 2019.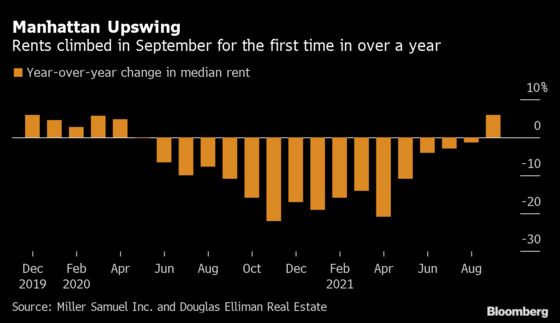 Apartment hunters are grabbing units as employers call workers back to their Manhattan offices, and the jump in demand is giving landlords the power to charge more. 
Owners last month discounted just 1.1% off their asking prices on average, down from 4.5% a year earlier, the firms said. They're also scaling back on move-in incentives: 30% of newly signed leases in September came with an enticement such as free rent or payment of brokers' fees, compared with 55% last year. 
Renters favored larger and newer properties, which contributed to the rise in the median price, said Jonathan Miller, president of Miller Samuel. Rates at buildings five years old or newer jumped 12% to a median of $5,170. They were unchanged in older properties, at $3,200. 
The number of luxury leases, representing the top 10% of the market, climbed 4.6% from a year earlier to 525. The median rent for those units soared 17% to $9,575
"The pandemic's economic damage is  being heavily weighted toward lower wage earners," Miller said, "and this clearly shows it."