Manhattan Rents Are Climbing Again. Blame the Weak Sales Market
(Bloomberg) -- Manhattan apartment rents climbed in October for a second straight month, a welcome surprise for landlords, who are reaping benefits from a weakening sales market.
The median face rent -- before landlord concessions are factored in -- rose 2.8 percent from a year earlier, appraiser Miller Samuel Inc. and brokerage Douglas Elliman Real Estate said in a report Thursday. Along with an identical increase in September, it was the biggest annual gain since December 2015.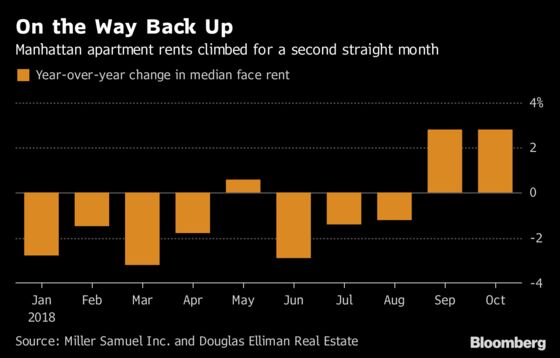 Would-be homebuyers are opting to remain renters while they wait for purchase prices -- which are falling -- to decline even further. The added demand enabled landlords to charge more, boosting the median face rent to $3,495.
The deals for renters are compelling, with free months, gym memberships and payment of broker's fees among the enticements. Perks were offered on 41 percent of all new leases. Compare that with the experience of potential buyers, who have to contend with sellers refusing to drop their prices.
It still isn't rosy for landlords: There's an oversupply of newly built apartments competing for tenants. That's why the share of new leases with incentives has climbed for 41 consecutive months.
Manhattan's apartment vacancy rate was 1.49 percent in October, the lowest for the month in nine years.
Tenants were quick to sign: Rental listings spent an average of 29 days on the market in October, compared with 44 days a year earlier.
New leases climbed 5.7 percent to 4,842.