Manhattan Home Sales Tumble in a Market Clogged With Listings
(Bloomberg) -- It's been a rough year for Manhattan's home sellers, and they're not about to catch a break any time soon.
In the three months through September, purchases dropped 11 percent from a year earlier to 2,987 -- the fourth straight quarter with a decline, according to a report Tuesday by appraiser Miller Samuel Inc. and brokerage Douglas Elliman Real Estate. Listings piled on to the market at an even greater rate, climbing 13 percent to 6,925 homes, the most for a third quarter since 2011.
A surging stock market typically fuels buyer bullishness on Manhattan real estate -- but not this time. Years of escalating prices, coupled with federal tax changes that increased burdens for some homeowners, have would-be purchasers assessing the value of buying property against other investments. Many who do take the plunge are pushing for bargains, refusing to overpay when they have so many choices.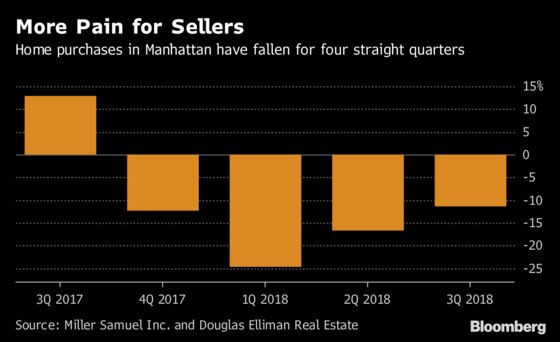 "It is somewhat perplexing," said Garrett Derderian, director of data and reporting for brokerage Stribling & Associates, which also released a report on Manhattan home sales Tuesday. "The financial markets are quite strong. Mortgage rates, while rising, are still at historic lows. But the perception has become that the market is overheating in terms of pricing. No one obviously wants to come in at the top where they're paying the highest prices as things are going down."
Stribling reported the weakest third quarter for Manhattan since the collapse of Lehman Brothers Holdings Inc. a decade ago froze the property market. The 2,212 signed contracts -- a measure of pending sales -- were the lowest for the period since 2008, while inventory was the highest since then.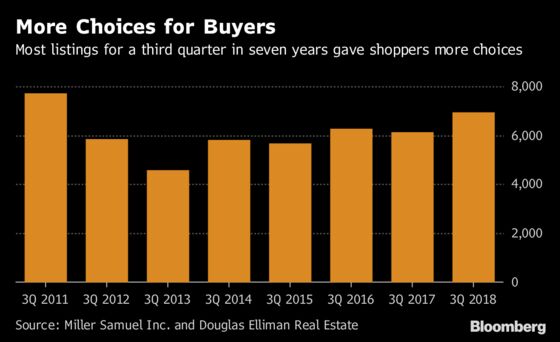 Buyers who came around to a deal in the quarter demanded discounts, bringing the median price of completed purchases down 4.5 percent from a year earlier to $1.12 million, Miller Samuel and Douglas Elliman said. In 54 percent of sales, buyers paid less than what sellers were seeking. An additional 37 percent of transactions closed at the asking price, but often that figure had already been reduced.
"For the last eight years, the market has been going up, up, up," said Bess Freedman, co-president of brokerage Brown Harris Stevens. "But now, it's really time for sellers to adjust prices to where the market needs to be. I think slowly they'll do that more and more."
Brown Harris Stevens, in a joint report with Halstead, said previously owned Manhattan homes spent an average of 104 days on the market in the third quarter, compared with 94 days a year earlier. Average co-op prices fell for almost all apartment sizes, with three-bedrooms seeing the biggest decline at 17 percent, to $3.13 million.
Corcoran Group said transactions dropped in almost all Manhattan neighborhoods, led by the area that includes the Financial District and Battery Park City, with a 41 percent decrease. The median price of sales there fell 22 percent to $960,000. On the Upper West Side, deals slipped 19 percent, while on the Upper East Side, the decline was 10 percent.