Manhattan Apartment Buyers Come Back After Almost a Year Away
(Bloomberg) -- Home shoppers are finally coming around in Manhattan.
New York City's costliest borough -- ignored by buyers for much of last year while sales surged in Brooklyn and the suburbs -- saw purchase contracts for co-ops and condos double in January from the same month in 2020, appraiser Miller Samuel Inc. and brokerage Douglas Elliman Real Estate said in a report Thursday.
It was the second straight month in which deals topped pre-pandemic levels, but January's increase was larger by far.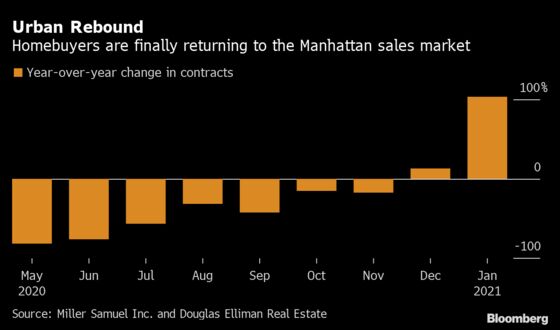 Buyers who had waited on the sidelines are sensing opportunity in Manhattan now as mortgage rates hover near record lows and sellers become more negotiable on pricing. Rates for 30-year loans have been below 3% since July, Freddie Mac data show.
"There's newfound affordability," said Jonathan Miller, president of Miller Samuel.
January's buyers overwhelmingly favored lower-cost properties. Purchase contracts for co-op apartments -- older units governed by more restrictive rules on residency -- nearly tripled from a year earlier to 518. More than half of those deals were for homes priced below $1 million.
Manhattan condo contracts jumped 51% to 360, with the largest number in the range of $1 million to $1.99 million.