Manchester United's Woodward Plans Exit Amid Super League Chaos
(Bloomberg) -- Manchester United Plc boss Ed Woodward, one of the highest-profile executives in world soccer, plans to leave the club amid the fallout from a crumbling plan to form a new European Super League.
The 49-year-old Woodward will leave his position as executive vice chairman -- effectively the most senior operational role at the club -- at the end of 2021, according to a company statement.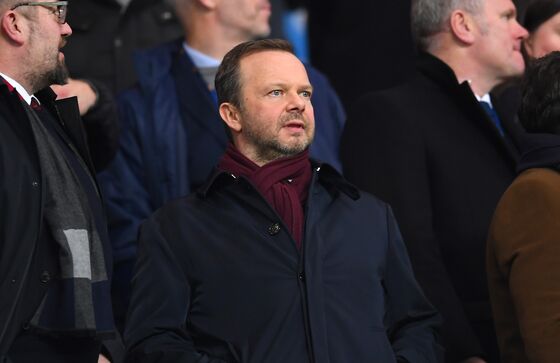 Woodward, a former investment banker at JPMorgan Chase & Co., has been a controversial figure since his appointment to the role in 2012, with supporters of the club often complaining about its failure to invest in players under the ownership of the American Glazer family. In 2020, Woodward's home was attacked by supporters calling for his exit.
"I am extremely proud to have served United and it has been an honor to work for the world's greatest football club for the past 16 years," Woodward said in the statement.
Manchester United is currently second in England's Premier League behind crosstown rival Manchester City, but it has struggled with a revolving door of managers under Woodward's leadership, failing to win a league title since the 2012-13 season. Woodward defended his record, including outlays on transfers of star players.
"We have invested more than one billion pounds in the squad during my time here," he said. "I desperately wanted the club to win the Premier League during my tenure and I am certain the foundations are in place for us to win it back."
Woodward, who joined United in 2005, previously served on the board of the European Club Association, the independent body representing football teams at a European level that United quit as it announced it was joining the proposed new league this week.
Manchester United shares fell 6% on Tuesday, erasing most of the gain that followed the Super League proposal announcement on Monday.