Managers Pick Mini-Me Proteges Of Same Race, Gender
(Bloomberg) -- For those worried that the #MeToo movement has discouraged men from nurturing women's ambitions at work, the Center for Talent Innovation has some news: There wasn't a lot of progress to roll back in the first place.
Research released today shows that, as of a year ago, most executives, male or female, chose proteges like themselves. About 71 percent said they've invested in more junior people of the same gender and race, according to research released today by CTI, a New York-based non-profit that advises companies on diversity. Sponsors also said that only about 23 percent of their pupils had a different management style or skills, according to the January 2018 poll of more than 3,200 men and women in white-collar jobs.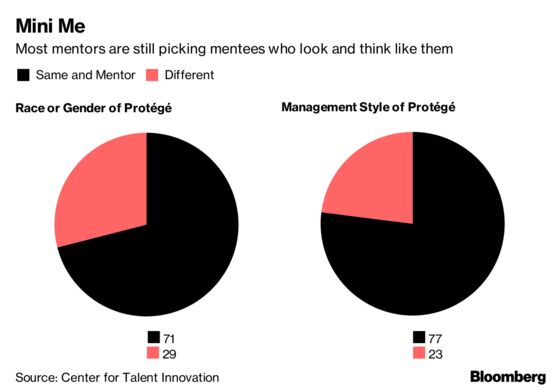 The report, which has surveyed talent development trends since 2010, also found that while more than half of sponsors say their proteges have leadership potential, less than a third are fulfilling one of the key roles of a sponsor: advocating for their promotion. Getting the mix right is important because employees with sponsors are more likely to be happy with their pace of promotion and less likely to be looking for another job, according to CTI.