Retail Stocks Plunge After Gap, Nordstrom Highlight Supply-Chain Problems
(Bloomberg) -- Retail stocks tumbled after disappointing reports from Gap Inc. and Nordstrom Inc. capped a difficult earnings season for consumer-facing brands, renewing worries over rising costs and a strained supply chain ahead of the holiday shopping season.
Gap Chief Executive Officer Sonia Syngal cited "acute supply-chain headwinds" that left the chain unable to capitalize on elevated customer demand, forcing the quintessential mall brand to slash its sales and profit outlook. Nordstrom faced similar challenges, with its stores short of key items such as women's shoes and apparel.
The widespread issues point to a divergence between companies that have adapted to the challenging retail environment and those that have simply relied on steady demand, said Simeon Siegel, an analyst at BMO Capital Markets.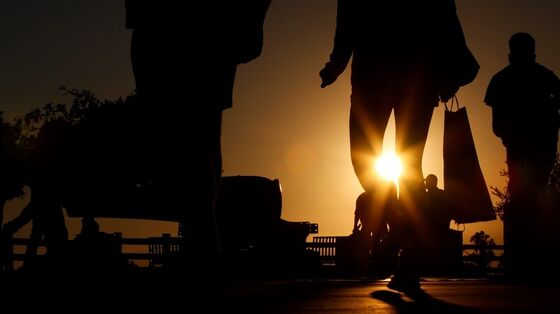 "Covid provided this opportunity for brands to reposition their businesses, but only if they took them," he said. He added that companies "clearly" need to be making structural changes to their supply chains.
The latest reports, among the last this earnings season from major retailers, underscore the persistent challenges as mall-based and stand-alone stores try to recover from a difficult stretch earlier in the pandemic. While consumer demand is strong at the outset of the holiday shopping season, many companies are struggling to take full advantage of that amid rising costs, a tight labor market and supplier issues.
Gap shares plunged as much as 23% Wednesday in New York, the biggest intraday decline since March 2020. Nordstrom's 29% intraday drop was the biggest ever in Bloomberg data stretching back more than 38 years.
An S&P index of retail stocks tumbled as much as 3.1%, the most intraday since September. Tapestry Inc., Ralph Lauren Corp., American Eagle Outfitters Inc. and Chico's FAS Inc. were among the consumer brands that fell.
Companies are largely being judged on how they're dealing with supply-chain pressures and higher costs, leading retailers to stock extra inventory in certain cases and encourage earlier shopping. Some, including Walmart Inc. and Target Corp., have managed to keep shelves well-stocked, but still have been punished by investors -- at least briefly -- for not passing along all the new expenses to customers.