Malaysian Police Question Ex-1MDB President as Probes Intensify
(Bloomberg) -- Malaysian police questioned 1MDB's former president for a second time as a report said he was interrogated for allegedly providing misleading information about the controversial fund in nationwide talks before the May general election.
Arul Kanda was called in "regarding the 1MDB case," Commercial Crime Investigation Department Director Amar Singh said at a press conference Friday, without elaborating. The police plans to summon Prime Minister Najib Razak and his wife Rosmah Mansor again to give clarification on the 1.1 billion ringgit ($266 million) of cash and items seized from the family home as part of investigations into the investment company, he said.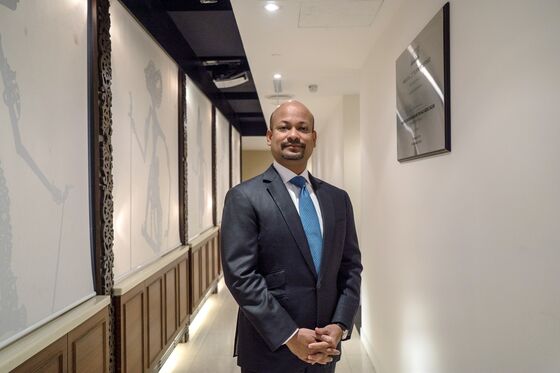 Malaysia's renewed investigation into 1MDB has revolved around Najib, who has called it a "politically motivated" move. He has pleaded not guilty to dozens of corruption and abuse of power charges laid against him in the past three months, while his lawyer is also facing money-laundering allegations. His wife Rosmah, his daughter and his stepson have been questioned by the Malaysian Anti-Corruption Commission.
The questioning of officers at 1MDB, whose full name is 1Malaysia Development Bhd., could shed more light on suspected wrongdoing at the company. The fund is at the center of a global scandal involving claims of embezzlement and money laundering, which have also triggered investigations in the U.S., Singapore, Switzerland and other countries.
Police quizzed Kanda for five hours on Wednesday on his speeches before the May election, where he spoke of the fund's investments and finances to counter the-then opposition's narrative of the company, the Malaysiakini website reported, citing a person it didn't identify. Kanda didn't immediately reply to a text message or calls seeking comment.
Separately, authorities are working on "private efforts" to bring fugitive financier Low Taek Jho -- painted by U.S. prosecutors as the mastermind behind embezzlement at 1MDB -- back to Malaysia from China, Prime Minister Mahathir Mohamad was cited by the Star newspaper as saying this week.
Malaysia has charged him with money laundering and said it's seeking Interpol's help to locate and arrest him, tightening the net around a central figure in the scandal. His whereabouts aren't publicly known. It isn't clear if Malaysia has asked China for help relating to Low, while Mahathir said the two do not have an extradition treaty.
"It is quite tricky for us to accuse China of hiding him, so we are trying to work out some way to get Low back from China," Mahathir was quoted as saying. When asked why China hasn't extradited Low, Mahathir said "maybe he's a bargaining chip or something like that."