Malaysia Was 'Cheated' by Goldman Sachs, Mahathir Tells CNBC
(Bloomberg) -- Malaysia was "cheated" by Goldman Sachs Group Inc. as a result of the firm's transactions with the country's scandal-tainted investment fund 1MDB, according to Prime Minister Mahathir Mohamed.
"Obviously we have been cheated," Mahathir said in an interview with CNBC, in response to a question about the restitution Malaysia might seek from the U.S. bank. "Of course there is evidence that Goldman Sachs has done things which are wrong," he added.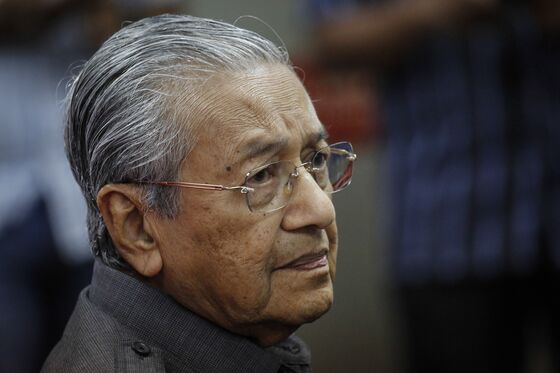 Goldman Sachs is facing increasing scrutiny after at least three former senior bankers were publicly implicated by the U.S. Department of Justice this month as part of a probe into a multiyear criminal enterprise that included bribes of officials and money laundering. The firm has said it's cooperating with the investigations and may face "significant" fines.
The Malaysia probe focuses on 1Malaysia Development Bhd., and the $6.5 billion it raised in 2012 and 2013, during the premiership of Mahathir's predecessor, Najib Razak. Goldman Sachs handled the deals, reaping almost $600 million in fees.
Mahathir said he didn't know how much restitution Malaysia might seek from the U.S. bank, adding that the firm's compliance function "doesn't work very well."
Shares of Goldman tumbled the most since 2011 on Monday after Malaysia's Finance Minister Lim Guan Eng demanded a "full refund."
Asked whether the Wall Street firm might be barred from doing business in Malaysia, Mahathir replied: "We are watching."