Mahathir Pushes Malaysia Budget Gap to Highest Since 2013
(Bloomberg) -- Malaysia's government will push its budget deficit to the highest in five years and will hike taxes and draw more income from the state oil company to help plug the shortfall.
In the first budget since Prime Minister Mahathir Mohamad took office in May, the government is widening its deficit target for this year to 3.7 percent of gross domestic product from a 2.8 percent target under the previous government. The median estimate in a Bloomberg survey of nine economists was 3.2 percent.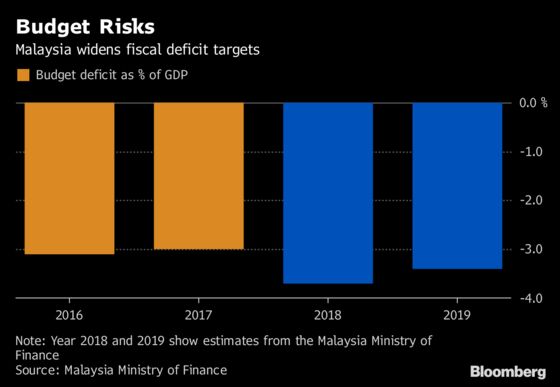 The shortfall is set to ease to 3.4 percent next year and 3 percent in 2020, Finance Minister Lim Guan Eng said in his budget speech on Friday. To fund the gap, the government will more than double the amount of dividends it expects to receive next year from state oil company Petroliam Nasional Bhd to 54 billion ringgit ($13 billion).
Malaysia's deteriorating fiscal picture is a worry for investors and a risk to the nation's credit rating. The budget comes against the backdrop of a slowing economy and rising global trade risks, with growth forecast to ease to 4.8 percent this year from almost 6 percent in 2017, and reach 4.9 percent in 2019.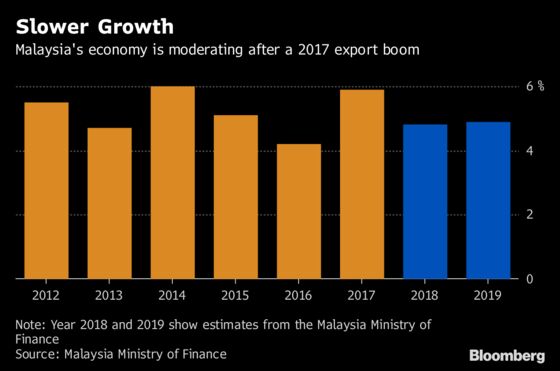 Mahathir's scrapping of a consumption tax soon after winning the May 9 election left a hole in the state's finances. Lim announced a range of tax measures and new revenue sources on Friday to help narrow the deficit over time.
Property: Stamp duty on properties worth 1 million ringgit or more will be raised to 4 percent from 3 percent. A levy on real-estate value gains will also be doubled to 10 percent for non-residents, and set at 5 percent for residents, who previously paid no taxes
Travel: An airfare levy on passengers set at 20 ringgit for those traveling to Southeast Asia and 40 ringgit for those flying elsewhere
REITs: The government will set up a real-estate investment trust for airports, then sell 30 percent of its stake to earn about 4 billion ringgit
Sugar tax: Excise duty will be imposed on sugary drinks at 40 sen a liter, including those with more than 5 grams per 100 milliliters of added sugar as well as fruit and vegetable juices with high sugar content
Casinos: Gaming companies must contribute 35 percent of their gross income to the government, on top of higher license fees at 150 million ringgit, from 120 million ringgit previously
Fuel subsidies: Market-determined fuel prices will be brought back although small cars and motorcycles may still enjoy cheaper prices
Small businesses: Corporate tax rate cut to 17 percent from 18 percent for companies with taxable income of up to 500,000 ringgit and with paid up capital of less than 2.5 million ringgit
The benchmark stock index ended almost 1 percent higher while the ringgit strengthened 0.5 percent to 4.1588 per dollar. The yield on 10-year government bonds fell 1 basis point to 4.09 percent.
"Risks to Malaysia's fiscal and debt profiles remain elevated as it works to manage a number of legacy issues and fund key priorities of the Pakatan Harapan government," said Andrew Wood, an analyst at S&P Global Ratings. "However, we believe that the government's commitment to gradual fiscal consolidation is credible."
Lim started his speech in Parliament by listing out the bad hand dealt to the nation by the previous government under Najib Razak. That includes 43.9 billion ringgit of payments Malaysia must make on behalf of troubled state fund 1MDB. Najib's government has already paid almost 7 billion ringgit of 1MDB's outstanding obligations, he said.
The new government is also saddled with 35.4 billion ringgit of unpaid tax refunds, while the amount of contingent liabilities has jumped 244 percent to 238 billion ringgit in the decade through last year.
Here are other key details on the budget:
State revenue target lowered to 236.5 billion ringgit in 2018, from 239.9 billion ringgit previously. For 2019, it's set at 261.8 billion ringgit
Petronas, as the state oil firm is known, will need to transfer 54 billion ringgit to the government in 2019, including a 30 billion ringgit one-off special dividend. The company is expected to contribute 26 billion ringgit this year
Subsidies and social assistance will decline to 22.3 billion ringgit in 2019 from 28.1 billion this year, mainly due to the scaling back of cash transfers and the reintroduction of market-determined fuel prices
Budget deficit is seen easing to 3 percent in 2020 and 2.8 percent in 2021
Inflation is estimated in a range of 1.5 percent to 2.5 percent in 2018, picking up to 2.5 percent to 3.5 percent in 2019
Monetary policy is set to remain accommodative and supportive of growth in 2019, while the ringgit is likely to become more reflective of underlying fundamentals when external uncertainties subside