Mahathir Marks 100 Days as Growth Risks Mount in Malaysia
(Bloomberg) -- Malaysian Prime Minister Mahathir Mohamad marks his 100 days in office with risks mounting against the economy.
Gross domestic product grew at its slowest pace in more than a year in the second quarter, the current-account surplus narrowed sharply and the currency is facing pressure as an emerging-market rout worsens.
Key Points
GDP increased 4.5 percent in the second quarter from a year ago, lower than the 5.4 percent gain in the previous three months and missing the 5.2 percent median estimate in a Bloomberg survey
The current-account surplus narrowed to 3.9 billion ringgit from 15 billion ringgit in the first quarter
Growth is forecast at about 5 percent this year, compared with previous government's projection of 5.5 percent to 6 percent
After a shock election victory in May, 93-year-old Mahathir has moved quickly to deliver on promises to fight corruption, review Chinese-funded projects and cut consumption taxes. He's canceled and postponed infrastructure projects backed by China including the $20 billion-East Coast Rail Link and energy pipelines as he tries to negotiate better terms.
The political transition had an impact on the economy last quarter, with public sector investment contracting 9.8 percent from a year ago, dragging down overall government expenditure by 1.4 percent.
Domestic demand remained strong and was buoyed by the government's scrapping of a 6 percent goods-and-services tax soon after Mahathir took office. Private consumption climbed 8 percent last quarter from a year ago, while investment surged 6.1 percent.
"The bigger picture we see going forward, private consumption will be modest as many Malaysians probably front-loaded their purchases ahead of the sales tax coming in September, so it's hard to see how that's sustained," said Brian Tan, an economist at Nomura Holdings Inc. in Singapore.
"At the same time, you are getting all these sharp spending cuts from the government which have already shown up in June," he said. "Overall, the growth picture for Malaysia looks quite challenging."
Central bank Governor Nor Shamsiah Mohd Yunus, who announced the GDP numbers at her first media briefing since being named to the post in June, said the economy will probably expand about 5 percent this year, lower than the previous government's projection of 5.5 percent to 6 percent.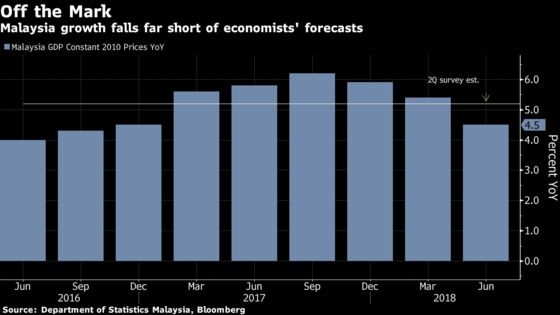 The drop in public sector spending was related to the government's transition and is expected to be temporary, she said.
The slowdown last quarter comes against the backdrop of heightened global financial market volatility and the escalation of trade tensions. While the currency has been relatively sheltered from the worst of the emerging-market rout that's hit countries like Indonesia and India, the ringgit weakened to an eight-month low against the dollar this week.
The currency was little changed at 4.1048 against the dollar as of 1:10 p.m. in Kuala Lumpur.
Read More: Malaysian Central Bank Revises Forex Admin Rules for Exporters
Nor Shamsiah said the direct effect of the trade tensions will be minimal, but if they escalate to include more countries and goods, then Malaysia would also be affected.
"Given recent market developments, escalating trade tensions and tighter fiscal finances, risks are skewed to the downside," said Julia Goh, an economist at United Overseas Bank Ltd. in Kuala Lumpur. "We expect growth to average 4.7 percent in the second half of 2018, bringing full-year growth to 4.8 percent."
The governor led policy makers in holding the benchmark interest rate at 3.25 percent last month, extending a pause since the monetary authority raised borrowing costs in January. Inflation is subdued, easing to 0.8 percent in June, the slowest pace since 2015.
Manufacturing rose 4.9 percent in the second quarter from a year earlier, down from 5.3 percent in the previous three months
Agriculture contracted 2.2 percent, compared with a gain of 2.8 percent in the first quarter
Services growth was unchanged at 6.5 percent
Export growth eased to 2 percent from 3.7 percent