Malaysia's 1 Trillion Ringgit Government Debt Explained
(Bloomberg) -- Malaysia's new Finance Minister Lim Guan Eng on Thursday gave a breakdown of government debt and liabilities exceeding 1 trillion ringgit ($251 billion), a figure that's fueled market worries and raised the prospect of a credit-rating downgrade.
Prime Minister Mahathir Mohamad said this week that the number was higher than previously disclosed under the administration of ousted leader Najib Razak, partly because the state had given guarantees to companies, like 1MDB -- the investment fund at the center of a multibillion corruption scandal -- which now can't repay its debt.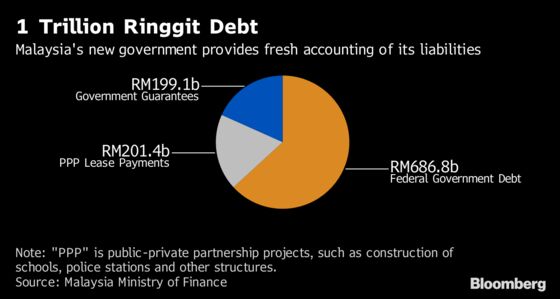 Lim said in a statement Thursday that the government's liabilities as at the end of last year comprised of the following:
Federal government debt of 686.8 billion ringgit, or 50.8 percent of gross domestic product
Government guarantees of 199.1 billion ringgit, or 14.6 percent of GDP. The government is committed to paying the debt of entities which are unable to do so, including 42.2 billion ringgit for Danainfra Nasional Bhd, 26.6 billion ringgit for Prasarana Malaysia Bhd and 38 billion ringgit for 1MDB.
Lease payments for public-private projects of 201.4 billion ringgit, or 14.9 percent of GDP. The government is obligated to pay for rental, maintenance and other costs on a number of projects, such as construction of schools, hospitals and roads.
That takes the total debt to 1.087 trillion ringgit, or 80.3 percent of GDP, which Lim said was a number Malaysians are "rightly concerned" about and that the government will take action to fix.
"This new government puts the interest of the people first, and hence it is necessary to bite the bullet now, work hard to solve our problems, rather than let it explode in our faces at a later date," the finance minister said in the statement.
He added the fundamentals of the economy are strong, the financial sector is stable, and banks are well-capitalized.
Lim told reporters in Kuala Lumpur that the government will honor its commitments, including 1MDB's debt.
Najib denied that his administration had hid 300 billion ringgit in debt, saying in a Facebook post that it had complied with international public debt reporting guidelines, which excludes contingent liabilities.
Indeed, credit rating companies and economists have long raised risks related to Malaysia's off-budget debt, even though the previous administration had made strides in bringing its fiscal deficit down to 3 percent of GDP.
Fitch Ratings Ltd. said one of the notable policies being developed under the new government is a possible review of the state's contingent liabilities and infrastructure projects.
"If carried out effectively, such a review could help limit the build-up of risks to broader public finances over the long term, though at the expense of creating some headwinds for domestic demand and growth," Sagarika Chandra and Stephen Schwartz from Fitch Ratings' sovereigns team, said in an email. Fitch is monitoring developments to see how it affects the nation's A- rating.
Mahathir's shock election win adds another dimension of uncertainty around the budget. He moved quickly to scrap a 6 percent goods-and-services tax, without putting in place any measures yet to raise new revenue to plug the hole.
The government is considering reintroducing a 10 percent sales-and-services tax, while Mahathir plans to curb spending by firing thousands of contract workers and reducing pay for cabinet ministers.