Malaysia Keeps Rates on Hold Amid Faint Signs of Recovery
(Bloomberg) -- Malaysia held its benchmark interest rate at an all-time low Thursday amid signs the economy is set to turn a corner as Covid infections slow and vaccines are rolled out.
Bank Negara Malaysia kept the overnight policy rate at 1.75% for a fourth straight meeting, as 18 of 23 economists in a Bloomberg survey predicted. The rest had forecast a 25-basis point cut.
"Growth is projected to improve from the second quarter onward, driven by the recovery in global demand, increased public and private sector expenditure amid continued support from policy measures and more targeted containment measures," the central bank said in a statement. "The bank remains committed to utilize its policy levers as appropriate" to help the economy recover.
The ringgit fell 0.1% to 4.0565 per dollar after the decision. Government bonds held losses and the country's key stock index pared its decline on the day to 0.2%.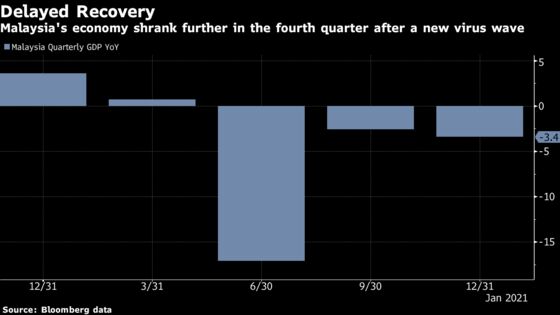 The decision comes a day before Malaysia is set to lift a ban on travel between districts and further ease virus curbs across the country. The number of new daily infections has been falling since January's peak, sparking optimism the economy will improve in coming months.
Going forward, the government plans to implement a more targeted approach to the pandemic, imposing lockdowns in areas with infection clusters while allowing the economy to operate, Prime Minister Muhyiddin Yassin said Monday.
"With higher U.S. Treasury yields fueling market pressures, it's no surprise BNM left policy rates on hold," said Mitul Kotecha, senior emerging markets strategist at TD Securities in Singapore. "BNM will likely hold its powder dry until the path ahead becomes clearer. In the interim, policy is likely to be increasingly data-driven, though there's room to ease" if needed.
What Bloomberg Economics Says...

"Bank Negara Malaysia sounded slightly more upbeat about the outlook. Even so, it still sees risks tilted to the downside and left the door open for easing policy settings further, if necessary. That keeps rate cut hopes alive, especially with the market backdrop of reflation angst and a jump in U.S. yields. Our base case expectation, though, remains that BNM will leave its policy rate unchanged this year."

-- Tamara Mast Henderson, Asean economist
In its statement, Bank Negara Malaysia said latest indicators suggest external demand and consumer spending are improving, but uncertainties about the pandemic and vaccine rollout create lingering downside risks.
"While the re-imposition of containment measures will affect growth in the first quarter, the impact is expected to be less severe than that experienced in the second quarter of 2020," the central bank said.
Capital Economics, which had expected a rate cut Thursday, said it had now changed its perspective.
"While the recovery should now resume, it will be slow going," Asia economist Alex Holmes wrote in a note after the decision. "Given that the bank decided not to cut rates today despite the poor outlook for the economy, further easing now looks unlikely."