Malaysia Chooses New King After Previous Monarch Steps Down
(Bloomberg) -- Malaysia has chosen Sultan Abdullah Sultan Ahmad Shah of Pahang state as the new king, weeks after the previous monarch abdicated in an unprecedented move.
The Conference of Rulers elected the king, known as the Yang di-Pertuan Agong, after convening at the National Palace in Kuala Lumpur on Thursday, according to a statement from the keeper of the rulers' seal. The country's nine Malay state rulers elect the king among themselves through a rotational monarchy, with each term lasting for five years.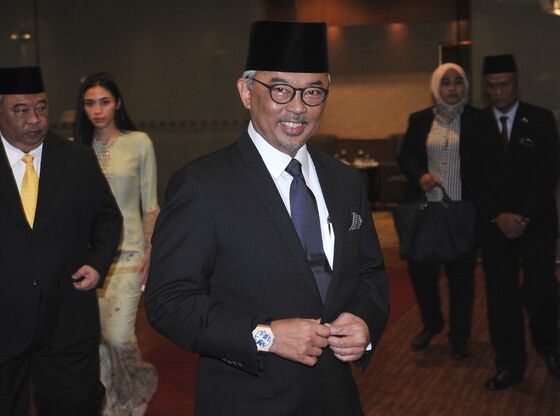 The previous monarch, Sultan Muhammad V, stepped down halfway through his term without giving a reason for his abdication. Prime Minister Mahathir Mohamad had called for the election of the new king to be expedited as he needed to consult the monarch "on certain matters." While the position is largely ceremonial, the Agong holds special discretionary powers, including swearing in the premier and pardoning convicts.
The new king Sultan Abdullah, 59, became next in line to the throne just last week, after he was proclaimed the ruler of Pahang state on Jan. 15. He replaced his father, Sultan Ahmad Shah, who stepped down as the Sultan of Pahang, citing health reasons for missing out on a meeting of Malay rulers that was convened after the previous monarch's abdication.
Sultan Abdullah is an avid sportsman, with interests in football, polo, and go-karts, according to his official website. The ruler studied foreign affairs and diplomacy at Oxford University's Worcester College and Queen Elizabeth College, and was commissioned by Queen Elizabeth II to be Second Lieutenant while at the U.K.'s Royal Military Academy of Sandhurst.
He was appointed the crown prince of Pahang in 1975, and has served as the state regent twice before succeeding his father as ruler. His wife, Tunku Azizah Aminah Maimunah Iskandariah Sultan Iskandar, is the sister to the current ruler of Johor state.