Here's Where Americans See Some Common Ground on Immigration
(Bloomberg) -- Democrats and Republicans found common-ground in key immigration issues, according to the newly released fourth annual American Family Survey.
The majority of Americans agree that naturalized citizens should be able to sponsor immigrants but opinions differ noticeably on whom should be sponsored.
The American Family Survey asked, "Immigrants who legally become naturalized citizens can sponsor family members to come to the United States. Which of the following family members should they be able to sponsor?"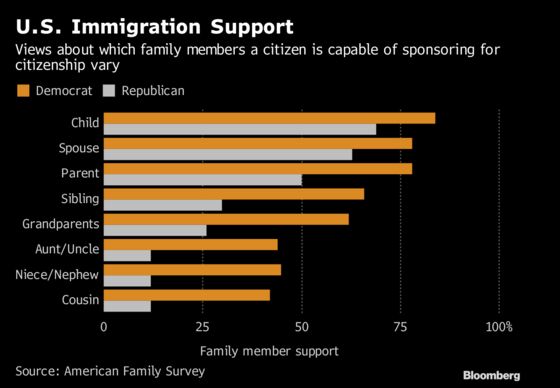 Both sides favor immigration for immediate relatives, or spouse, children and parents, of U.S. citizens whereas support for extended family members wanes strikingly.
Democrats are generally more favorable toward immigration of all types including sponsorship for siblings and grandparents. But, less than a majority of Americans -- of both parties -- support immigration for aunts or uncles, nieces or nephews, and cousins.
Relationship status also seems to have played some role in survey respondents' opinions.
Those who are married, Democrats and Republicans alike, and have kids are more likely to support immigration for spouses and children. Meanwhile, single respondents place more value on the extended family relationships, as they are more likely to favor sponsorship for immigration of all of the other extended family categories.
Poll was based on a survey of 3,000 U.S. adults (18+), Aug. 3-14, margin of error ±1.9%