Major League Soccer Players Get Pay Bump, Media Sharing in Pact
(Bloomberg) -- Major League Soccer, the U.S. professional league that's rapidly gaining clout in the sports world, will give its players higher salaries and a share of its next media-rights deal in a new collective bargaining agreement.
Each MLS club's player-spending budget will rise to $11.6 million by 2024 from $8.5 million in 2019, the league said on Thursday. The pact also calls for a higher minimum annual salary for senior roster players and increased retirement benefits.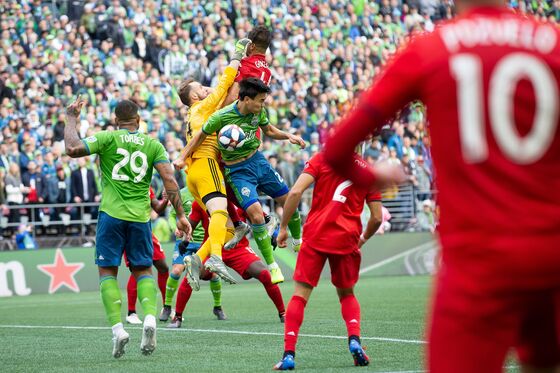 Players will get a share of the revenue from the league's media-rights deals for 2023 and 2024, after the existing partnerships expire at the end of 2022. Games currently air on ESPN, Fox Sports and Univision.
This is the first time players will see a cut of media money, which is customary in U.S. leagues like the NFL and NBA.
MLS team valuations have been soaring, with investors like David Tepper and Meg Whitman joining the ownership ranks. In 2014, Atlanta's new franchise paid a $70 million expansion fee; last year, a team in Charlotte, North Carolina, shelled out around $300 million to join the league.
The 26-team league's next season, its 25th, starts in early March. MLS plans to expand to 30 squads by 2021.