Mahathir Warns of One-Term Government if Infighting Remains
(Bloomberg) -- Malaysia's ruling coalition may fail to hold on to power if it doesn't stop the infighting that has eroded public support, Prime Minister Mahathir Mohamad said.
His administration "could be" a one-term government unless it changes, adding he isn't "too confident" in the next generation of leadership. He spoke at a meeting with reporters in Malaysia's northern city of Langkawi on Monday.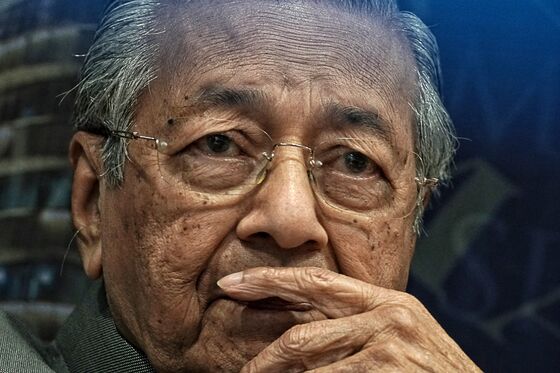 "They see being in the winning party as, because you have power you can get this and that," Mahathir said. "We are telling them, 'Look, even if you are the winning party, the system now is fair to everybody, but of course they could even threaten you, then you will lose support.'"
Questions over whether the prime minister will hand over power to his former rival Anwar Ibrahim have loomed over Malaysian politics ever since Mahathir led the coalition to a surprise victory in 2018. Mahathir said he has told Anwar that he would step down after hosting the Asia-Pacific Economic Cooperation meetings, which is set to continue into November, while Anwar said he expects to become prime minister around May.
"But you know he goes around saying things which cause a lot of people to worry what kind changes he might bring," Mahathir said. "This is his problem, it is always like that."
The ruling coalition has sought to temper concerns by reiterating that no deadline has been set for the handover.
The Pakatan Harapan alliance has lost three of the five parliamentary by-elections since it assumed power in May 2018. On Saturday, it ceded a seat in the eastern state of Sabah to the opposition coalition, which had previously ruled the country for three decades. Mahathir had said he would carry out a post-mortem to find out why the alliance lost.
Mahathir's administration has sought to fulfill its election promises despite being constrained by a debt burden worsened by the 1MDB scandal. It has revised billion-dollar contracts to reduce cost, restarted projects to spur growth and embarked on a reform of government-linked companies to make them more efficient. But slower-than-expected results and concern over living costs as well as bickering within the coalition have led to disillusionment among some voters.
"We have lost many by-elections but they still don't understand," Mahathir said, referring to his government. "Instead they fight among themselves, they divide their people and all of them are weak."