Maduro Wakes Venezuela With Dawn Broadcast Before Troops
(Bloomberg) -- Venezuelan President Nicolas Maduro took to state television Thursday and made mundane comments on Bolivarian revolution, the importance of military unity and the perfidy of the United States. Standard fare.
What got people's attention was how early the socialist autocrat spoke -- around 5 a.m. -- and where -- at the military academy in Caracas, before 4,500 troops in formation.
The national reveille came two days after opposition leaders Juan Guaido and Leopoldo Lopez attempted to spark an uprising within the nation's military that ended only in inconclusive street clashes. Few troops defected from the regime.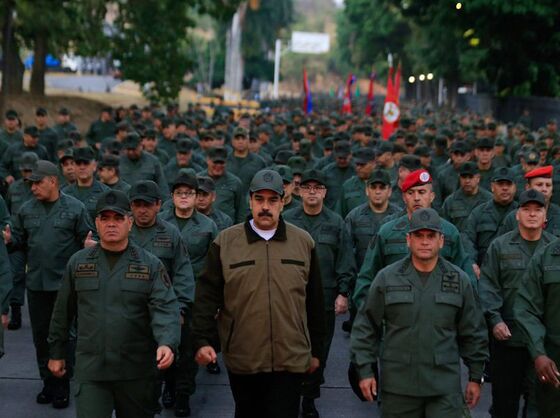 "This Venezuelan armed force has to teach the world and our people a lesson," Maduro said. "This is the time for combat and for us to say there is a united, loyal and cohesive armed force as never before. Traitors sell themselves for U.S. dollars."
Maduro's snap appearance, preempting the usual early-morning programming of socialist happy talk and exercise shows, was meant to project steely control. But Guaido has called for continual protests until Maduro steps down. Both men are attempting to wake up the nation in their own ways.