Macy's Website No Longer Offers Sheet Set Questioned by Agency
(Bloomberg) -- Macy's Inc. is no longer offering a sheet set on its website after Bloomberg reported that a Texas government agency questioned the bedding's advertised thread count. The producer disputed the state's claims, saying its count is accurate.
The Barrett four-piece Queen Sheet Set, made by Sunham Home Fashions and marketed as having a 1,400 thread count, wasn't available on Macys.com as of Sept. 18, a day after the story was published. It had been for sale on Sept. 17 with a list price of $200, though marked down to $55.99.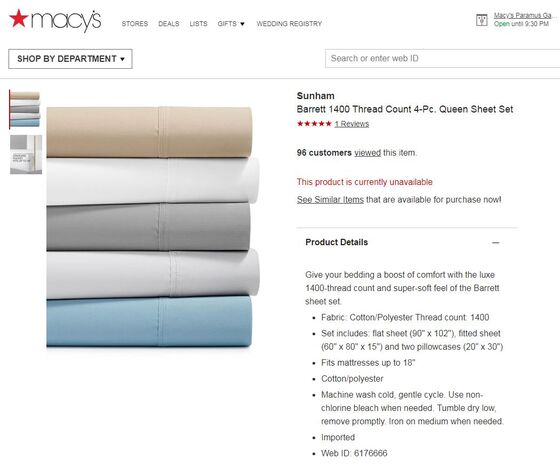 The Texas Department of Agriculture commissioned a third-party test of the item and found the sheet set had a thread count of 505, Bloomberg reported, citing a July 25 letter from the agency to the supplier and to Macy's. That "constitutes a materially false, misleading or deceptive act or practice," the department said, urging the companies to stop selling the item or to repackage it so that the accurate thread count is reflected.
Thread count is the term for how many threads are in each square inch of material. Broadly speaking, the higher the count, the softer and more pricey the sheets.
Sunham, in a statement Tuesday, said its thread count is accurate. It said the Barrett sheet set is made from what's called Chief Value Cotton fabric, which weaves cotton fibers with polyester filaments. The filaments are naturally thinner than cotton fibers, and many more may be used in the weaving process than traditional all-cotton fibers, it said.
"Because of the difference in the way all-cotton fabric is constructed from that of CVC fabric, it is a common and well-known practice in the industry to represent the thread count of CVC fabric by counting the individual fibers used in the weaving process," Sunham said. The company was founded in Hong Kong in 1962.
The company also said independent testing through certified labs have verified its fabric's thread count.
The TDA, whose mandate includes consumer protection, also recommended that the Texas Attorney General and U.S. Federal Trade Commission investigate the matter further. Sunham, in its statement, said that it "voluntarily reached out" to the state office and is "fully cooperating."
Macy's, in a statement Tuesday, said it was aware of the situation and that Sunham was working with Texas authorities to address the issue. The retailer didn't address the product's removal from its website. It did, however, offer customers the opportunity to return the sheet set for a full refund if they have concerns about it.