Macron Warns Against Pandemic-Caused Deflation in Nod to ECB
(Bloomberg) -- French President Emmanuel Macron called on the European Central Bank to keep buoying the euro area through the pandemic, saying the alternative is deflation that would cause "political and social chaos."
Evoking policy lessons of the Great Depression, Macron praised the ECB on Friday for keeping interest rates low and buying sovereign debt.
"As long as we maintain this monetary policy, we'll get by," he said during a briefing in Paris. "And that's exactly what one should do, because otherwise the answer would be budget policies that are deflationary."
Macron, who is expected to seek a second term in the French presidential election in April 2022, spoke face to face with a group of reporters as France and other parts of Europe see a summer spike in coronavirus infections, raising questions about the pace of Europe's economic rebound.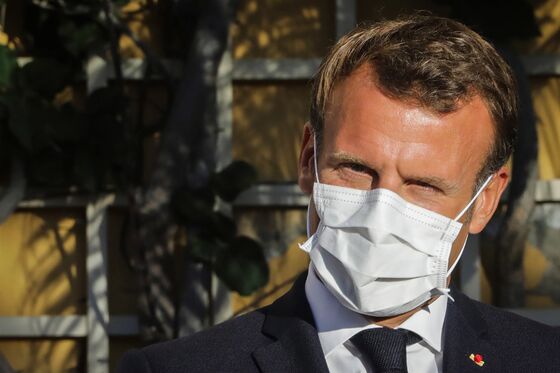 The ECB, after a hesitant start by President Christine Lagarde, has pledged a 1.35 trillion-euro ($1.6 trillion) bond-buying program and ultra-cheap loans for banks to help fund the recovery from the deepest recession in living memory, while also calling on governments to play their part with fiscal stimulus. ECB chief economist Philip Lane said this week that officials can do more if needed.
The flood of cash has sparked a debate among economists over whether the ECB and its global peers have managed to avert deflation or are on the verge of sparking a surge in inflation. Lane, who will unveil updated forecasts at next month's ECB policy meeting, has signaled his most pressing concern is depressed price growth.
Restrictive monetary and fiscal policies such as those during the 1930s "lead to political and social chaos," Macron said.
Europe's emergency stimulus programs, including an unprecedented 750 billion-euro European Union package in July backed by Macron and Germany's Angela Merkel, have squeezed risk out of the markets and helped send the euro on a rally.
The French government is gaining confidence about the strength of the rebound and may revise its 2020 forecast of an 11% economic contraction, Finance Minister Bruno Le Maire said Thursday.
Macron said it's now also "feasible" to avoid lockdown measures similar to those imposed in France last spring, thanks to discipline and social distancing. Even so, there could be another nationwide or regional lockdown "if the virus continues to surprise us," he said Friday.
"Lockdowns have been the most unsophisticated measure, used since the Middle Ages," Macron said.
Read more: What $4.8 Trillion of Euro-Area Support Is Doing to Risk Gauges
Macron portrayed the pandemic as an opportunity to speed up France's modernization, though he signaled a pension overhaul that has provoked strikes and demonstrations would be adjusted. Government debt incurred through emergency spending to shield the French economy against the pandemic fallout will be split off, he said, echoing comments by Le Maire in July.
France's divisive pension reform, which would have helped rein in government spending, was halted during the pandemic's peak.
"We'll readjust the reform in the light of the context," Macron said. "I don't want the country to return to divisions."