Macron's Lockdown Conundrum Will Decide France's Recession Fate
(Bloomberg) -- The French economy is on the brink of tipping into another recession, depending on President Emmanuel Macron's next move to contain the Covid-19 pandemic.
If the government replaces the current curfew with a seven-week nationwide lockdown similar to November's, the economy would shrink 1% in the first quarter after a 1.3% contraction at the end of last year, national statistics agency Insee estimates. If France keeps current restrictions unchanged, the economy would grow 1.5%.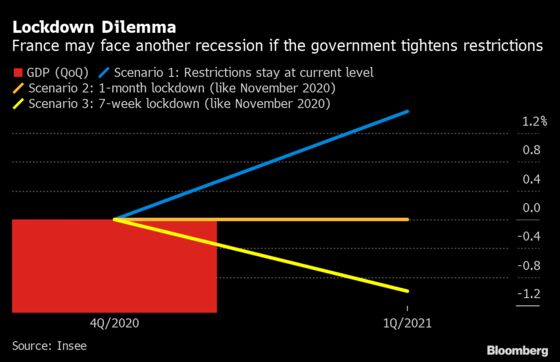 Macron has so far held off from imposing a third lockdown, even as neighboring countries have opted for stricter measures and French hospitals come under pressure from rising numbers of Covid patients. Prime Minister Jean Castex is due to give an update on the health situation and the state-imposed restrictions at a press conference later on Thursday.
The French economy performed better than expected in the fourth quarter as business investment and exports continued to rebound despite the November lockdown. Insee economist Julien Pouget said that means the government's 6% growth forecast for 2021 is still attainable, even if there is a lot of uncertainty.
"The crisis has transformed into an endurance test," he said. "The longer it goes on, the more the capacity for rebound becomes uncertain, notably in the sectors that are the most affected."
The speed of the vaccine rollout will also be a crucial factor in determining when the economy can start to get back to normal. Europe has so far lagged behind the U.K. and the U.S., raising risks of huge economic damage.
"Since the start of the crisis, health and the economy have mirrored each other," Pouget said. "So anything that can contribute to stemming the epidemic will increase economic activity."
Read more:
France's Tougher Restrictions on Stores to Cost EU500M a Month