Macron's Fish Fight Offers May a Glimpse of Brexit Battles Ahead
(Bloomberg) -- After 17 months of Brexit negotiations, Theresa May is not yet half-way there.
The prime minister got her divorce deal with the European Union at a summit in Brussels on Sunday, but she hasn't started formal talks on the future trade arrangement with the bloc -- and this looks set to be a far tougher task.
The Brexit deal was barely an hour old when French President Emmanuel Macron revealed the hard-line approach that he will be taking to the next phase of the negotiations, focusing on the future.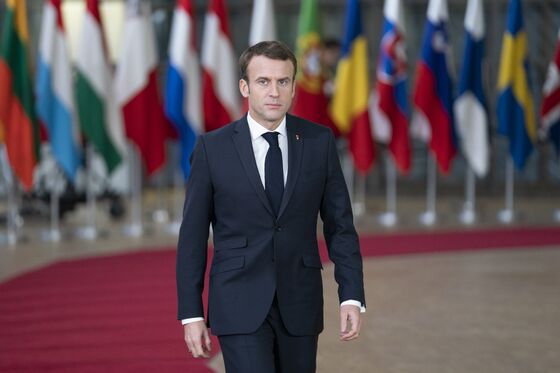 Macron said his "essential" price for agreeing to a new trade partnership with the U.K. will be access to British waters for French fishermen.
France is unlikely to be alone in making bespoke demands of the British. Talks on the future U.K.-EU partnership will begin formally after Brexit. They are due to cover trade, economic cooperation and security ties, and could take many years to complete, European diplomats say. The problem for Britain is that the final agreement on the future must be approved unanimously by every one of the remaining 27 EU member countries.
Some countries even give a say to their regional parliaments: The EU's trade agreement with Canada was held up in 2016 because the parliament in Belgium's French-speaking region of Wallonia wasn't happy.
Under the terms of the divorce, if no future deal between the EU and the U.K. can be struck by the end of 2022, Britain will end up locked into the EU's customs union -- something May has vowed to avoid. That gives the leaders some leverage.
Speaking on Sunday, Macron suggested he could veto a deal and force the U.K. to stay in the EU's customs rules if he doesn't get his way on fish.
"The future relationship doesn't just reflect fishing, but other things that matter to Theresa May," Macron told reporters in Brussels. "I have no understanding that the intention of Theresa May and those who support her is to stay in a customs union."
The past two weeks have given the U.K. a glimpse of the perils ahead. In an 11th hour hitch, Spain's insistence that the future trade agreement can't apply to the British overseas territory of Gibraltar became the biggest sticking point.