Macron Risks Outcry by Plowing Ahead With French Welfare Reform
(Bloomberg) -- Emmanuel Macron is risking another showdown with French workers after deciding on Tuesday to force through potentially unpopular changes to benefits for the unemployed without the backing of the country's unions.
Macron's prime minister, Edouard Philippe, said the government will take responsibility for shaking up welfare on its own after negotiations broke down between the labor unions and business lobbies that have managed France's unemployment insurance together for years.
The government wants to reduce the debt in the system and change rules to limit the size of some welfare checks. It also wants to discourage companies and workers from using the benefits system as a shock-absorber for those on short-term, unstable work contracts. Philippe said the changes will come as soon as this summer.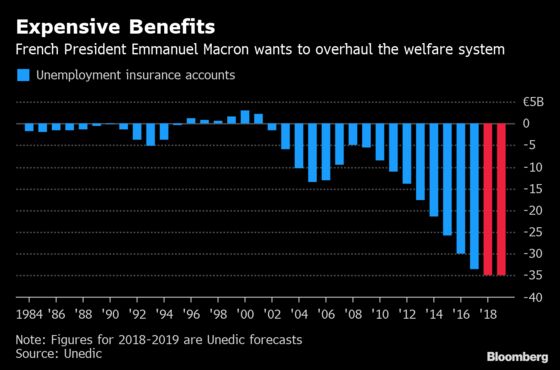 "We must take action," Philippe said at a news conference in Paris. "I very deeply regret that it wasn't possible to find an agreement."
For 41-year-old Macron, taking on the unions is riskier now than with previous reforms as he is already weakened by months of Yellow-Vest protests.
But the president pledged to forge ahead with his program of economic reforms when he handed out tax cuts to appease the protesters in December. If he backs off now, that will encourage opponents to try to block his plans to shake up the pension system and the public sector later this year.
Unemployment insurance is the third in a trio of labor reforms that began with an overhaul of rules on hiring and firing in 2017 and a revamp of vocational training and apprenticeships last year.
By changing the unemployment system, which is hobbled by over 30 billion euros ($34 billion) of debt, the government hopes to get more French people back into work and encourage employers to offer more stable contracts.
France's unemployment insurance can be extremely generous compared with other European systems. Because payments to job seekers are based on previous earnings, they can be as high as 6,615 euros a month -- more than five times the minimum wage -- and claimants can continue to cash checks at that level for as long as two years.
Philippe said the reform would limit the highest benefits and discourage companies from using short-term contracts, potentially with higher taxes. In the last 15 years, the use of contracts less than a month long has tripled and in 80 percent of cases it is the same person who is rehired by the same company, Philippe said.
The prime minister also said the government will seek to improve assistance for job seekers and eliminate cases where staying on benefits can be more advantageous than working.
"Work must always pay better than unemployment," he said.