Macron Urges French to Get Vaccinated and Raises Growth Outlook
(Bloomberg) -- President Emmanuel Macron turned up the pressure on the French to get themselves vaccinated against Covid-19 as he raised the country's growth outlook and pledged an economic reboot before next year's elections.
Macron said France's efforts to contain the Covid-19 pandemic are bearing fruit and that the economy is set to grow by 6% this year, compared with a previous forecast for a 5% expansion. Still, he warned Monday that the recovery will be shaped by the success of the vaccination push -- the French government's previous forecast cited the risks of a resurgence in infections.
While France's economy is rebounding faster than expected since the government lifted most Covid-related restrictions in June, the president is still at risk of seeing the final months of his mandate dominated by another wave of infections.
In an effort to forestall that threat, he said vaccination will be mandatory for healthcare personnel and those working with the vulnerable while so-called "health passes" -- which show proof of testing or immunization -- will be obligatory in venues such as restaurants and cafes.
"The vaccination of all French people is the only way to return to normal life," Macron said in a televised address. "Our aim is a summer of mobilizing for vaccinations."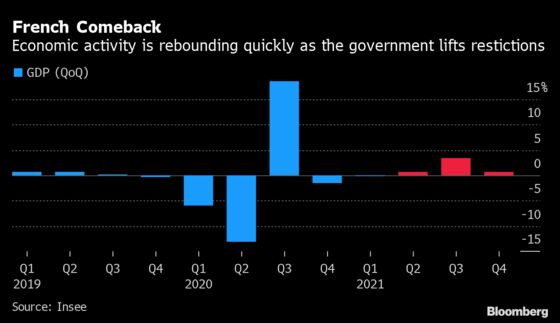 Macron said he would launch an initiative in September to reinvent France's economic model, based on fostering future industries with state investment, more finance for training and dedicated support for young people. He said the plan's goal was to create "the champions of tomorrow."
The delta variant now represents more than half of new Covid cases, a number that has risen by around 60% on average in the past week and is getting closer to 5,000 a day, even as the number of hospitalizations and deaths is dropping. France is "four weeks behind the U.K.," where cases have been on the rise, Health Minister Olivier Veran said Sunday.
About half of the French population has gotten a first jab, but there are signs that the vaccination campaign is slowing down. In a further effort to drive people to get their shots, Macron said the reimbursement for Covid tests without prescription will end, meaning those who haven't been immunized will face a rising bill to be tested for travel or attending events. Border controls will also be reinforced, he said.
Macron effectively dropped his plans to reform the French pension system before next year's election, a key pledge from his first presidential campaign, saying it won't happen until the pandemic is under control. His plans to shake up the public pension system have met with resistance from both trade unions and business leaders, though Prime Minister Jean Castex is set to continue discussions.
"While I'm asking Jean Castex to discuss this subject with unions when schools are back, I will not start this reform until the pandemic is under control and the recovery well secured," Macron said.