Luxe Fashion's Farfetch Gets Analyst Adulation in Initiations
(Bloomberg) -- Farfetch is in fashion on Wall Street.
In a round of analyst initiations, the London-based e-commerce platform for high-fashion goods managed to win six bullish calls. Shares are up 15 percent since Farfetch's Sept. 20 public debut at $20 compared to a 6 percent loss for the S&P 500.
Shares are up as much as 6 percent in New York.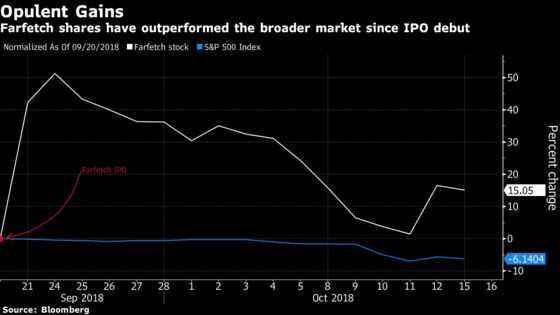 Wells Fargo, UBS and Deutsche Bank are among the firms that issued a buy rating on the company following the expiration of the 25-day quiet period for what may be Farfetch's friendliest analysts, the sell-side researchers who work for banks that underwrote the initial public offering.
Farfetch is a digital marketplace for posh goods from Balenciaga bags to Chanel suits. The business appears well-positioned as the online market transforms the luxury space and rivals like Amazon and Ebay aren't tailored to service the modern high-end consumer, Wells Fargo analyst Ike Boruchow wrote in a note.
The company "provides an opportunity to hop aboard an early-stage e-commerce growth story with an incredibly long runway ahead of it," he wrote. Boruchow initiated the company at outperform with a Street-high target of $30.
UBS analyst Eric Sheridan is also positive on the luxury goods space noting three important trends in the market: the shift from offline to online, the increasing importance of younger shoppers and China growth opportunity.
Sheridan sees Farfetch sustaining more than 25 percent revenue growth amid expanding supply from brands and boutiques and growing customer demand.
Credit Suisse, Cowen, and JPMorgan also initiated Farfetch with buys, according to Bloomberg data. Goldman Sachs is the only analyst sitting on the sidelines with a neutral rating and Street-low price target of $24.