Luckin Seeks Chairman's Resignation Amid Accounting Scandal
(Bloomberg) -- Luckin Coffee Inc.'s board will require Chairman Charles Zhengyao Lu to resign, adding to the fallout from an accounting scandal that has battered the onetime market darling.
The proposal was requested by a majority of directors and was based on the findings of an internal investigation, the Chinese company said in a filing. The board will hold a special meeting on the matter on July 2.
The move, coming after Luckin fired its chief executive officer last month, adds to the list of challenges facing Lu, who became a billionaire after his fast-growing Chinese coffee chain went public in the U.S. Much of Lu's wealth has been wiped out by a plunge in Luckin's stock of more than 90% since April, when the company disclosed that some of its employees may have fabricated billions of yuan in sales.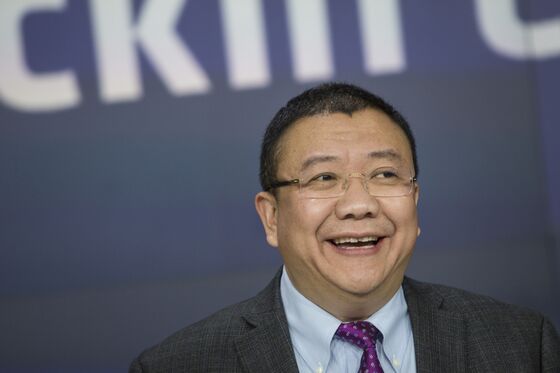 The company's U.S. depositary receipts tumbled 54% Friday after Luckin said it would no longer seek a hearing on a potential delisting from the Nasdaq Global Select Market.
Last month, lenders led by Credit Suisse Group AG targeted the family assets of Lu as they tried to recoup losses on more than $500 million in soured margin loans. They won a court order to liquidate two holdings -- Primus Investments Fund and Mayer Investments Fund -- which hold shares in Luckin and are ultimately controlled by the Lu family.
Luckin's fall from grace has made it a poster child for concerns about Chinese corporate governance, fueling a debate in Washington over the extent to which U.S. money and capital markets should be made accessible to firms from a growing geopolitical rival. The U.S. Senate approved legislation Wednesday that could lead to some Chinese companies being barred from American exchanges.
Luckin, founded in 2017, raised $645 million in its U.S. IPO last year and counted BlackRock Inc. among its backers. It took direct aim at Starbucks Corp. in China, with a strategy to open more stores in two years than the Seattle-based heavyweight has in two decades.
To reach its goal of having 10,000 shops by 2021, the company relied on a cash-burning strategy of offering generous discounts to lure patrons: First-time customers got a free cup of coffee and six vouchers for 50% off future purchases. It's a growth strategy that costs about $130 million in a year.
The coffee chain opened 10 outlets a day in its home market in the second quarter as of May 12, bringing its total number of stores to 6,912, according to Thinknum Alternative Data, a New York-based company that collates company operations data from public channels.
Luckin said in early April that it was investigating whether senior officials were involved in fabricating transactions of about 2.2 billion yuan ($311 million). In an internal memo last month, Luckin apologized to employees and their families for the damage wrought by the financial scandal. The fraud has plunged the company into an "unprecedented crisis" and put it at the mercy of public opinion, said the memo.
Luckin delayed its annual results, saying it was unable to prepare the financial report due to the coronavirus pandemic. That raised questions about how long its cash flow can continue supporting its breakneck expansion, especially as Chinese consumer demand stays sluggish because of the outbreak.
Lu resigned earlier this month as chairman and non-executive director of Car Inc., China's biggest rental-car fleet operator.
Luckin Coffee said in a statement Saturday that its more than 4,000 outlets in China will resume normal operations and its almost 30,000 employees will continue to serve customers.