Lucia Hiriart, Widow of Chilean Dictator Pinochet, Dies at 99
(Bloomberg) -- Lucia Hiriart, the widow of the late Chilean dictator Augusto Pinochet, has died She was 99.
She died Thursday, according to a report from the Chilean army. Local press had reported that she had respiratory problems earlier this year.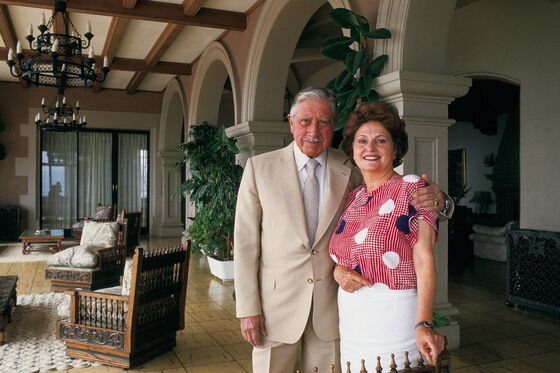 Hiriart stood by her husband throughout his regime, which ran between 1973 and 1990, at times saying that she would have taken a harder line against opponents than he did and that Pinochet was unaware of the human rights abuses during his tenure. More than 3,000 people died or disappeared while Pinochet ruled. And like the former dictator, the last years of her life were mired in allegations of corruption.
Born in Antofagasta, in northern Chile, in December 1922, Hiriart married Pinochet at the age of 20, when he was still a lieutenant in the armed forces. She went on to have five children by him. The dictator died in 2006, a quarter of a century after relinquishing power.
After leaving power, Hiriart was accused and eventually acquitted of charges of siphoning off funds from the Mothers' Centers, a charity set up during the dictatorship to help women on low incomes, and of tax evasion after accounts holding about $21 million in funds were discovered at the Riggs Bank under fake identities.