Lowe's Faces a Built-In Hurdle to Close $30 Billion Gap
(Bloomberg Opinion) -- Lowe's Cos. is far from a troubled retailer. The home-improvement chain's share price has risen more than 93 percent in the last five years as it delivered steady sales growth amid a largely healthy housing market.
Even with signs that the housing market may be cooling, Lowe's reported Tuesday that it kept up its streak of sales gains in the latest quarter. And yet its 1.5 percent gain in comparable sales from a year earlier trailed analysts' estimates and lagged behind industry pacesetter Home Depot's robust 4.8 percent rise. 
Lowe's new CEO, Marvin Ellison, has ambitions of strengthening the retailer so it does a better job of competing with Home Depot, whose annual sales dwarf its smaller rival by some $30 billion. Given that Ellison spent more than a decade as an executive with Home Depot, he ought to have a clear sense of how to do that. And he demonstrated Tuesday that he is moving decisively, announcing that the company will exit its Mexico retail operations, as well as its Alacrity Renovation Services and Iris Smart Home businesses.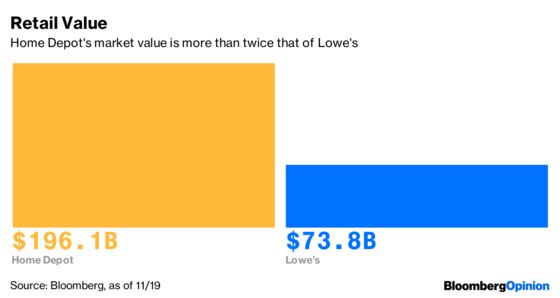 There's one thing, though, that could make his transformation efforts more challenging. When it comes to store real estate, the advantage goes to Home Depot.
Bloomberg Opinion analyzed the U.S. locations of each home-improvement giant. We excluded those in territories such as Puerto Rico, as well as a slate of 20 stores that Lowe's announced recently it would close by February 2019. In certain ways, we found their portfolios aren't terribly different. Both have saturated the map enough that they have little room to add more locations.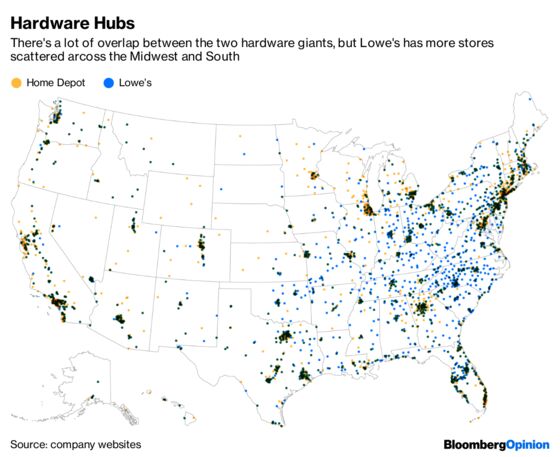 But, Home Depot has stores in some Western markets where Lowe's doesn't compete, and it has a particularly rich concentration of outposts in dense areas of the Northeast. Lowe's meanwhile, has more of a presence in the Midwest and South. These differences in their locations mean that their stores end up being accessible to somewhat different audiences. For instance, consumers earn more on average in counties where Home Depot stores are located.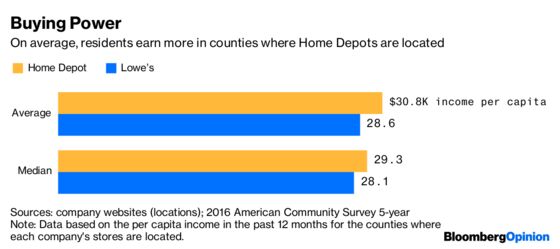 Home Depot's edge on these metrics isn't huge. But it still matters, for exactly the reasons you might expect. It helps to be located in an area where shoppers would probably have more lavish budgets for renovation projects, and where they might be more likely to redecorate and refurbish for aesthetic reasons, not just because something broke.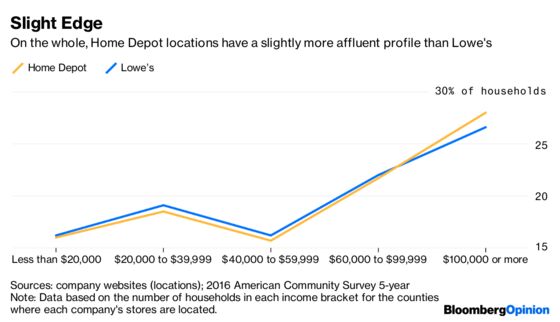 You could argue that these kinds of real estate differences matter less in the digital era. Couldn't Ellison offset this challenge with a smart e-commerce strategy? The answer is: Only sort of. The home improvement category hasn't migrated online, at least yet, to the same extent as segments such as apparel and electronics.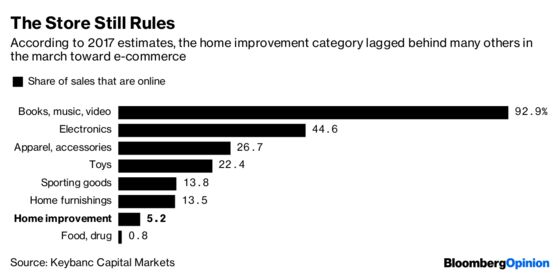 And when home improvement shoppers do embrace e-commerce, the store is often still a part of the transaction. Ellison said on Lowe's second-quarter earnings conference call that about 60 percent of the retailer's online orders were picked up at a store. 
Ellison can find ways to make headway even within the constraints of the store portfolio. Michael Lasser, a UBS analyst, found in a recent survey of shoppers' home-improvement plans, Home Depot was the preferred place to shop for this merchandise, even among those with the least expensive homes.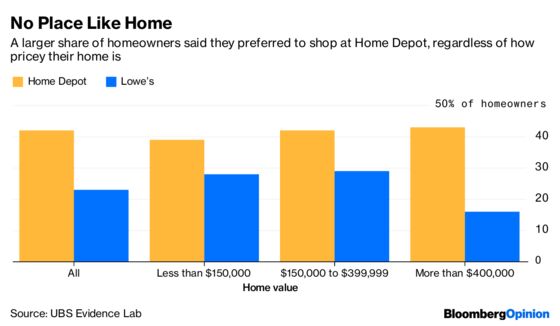 But the gap is closest in the group with the lowest home values, perhaps in part reflecting the fact that it has more of a presence in less wealthy communities.  With those factors in mind, it seems like Lowe's should be intensely focused on winning the dollars of value-conscious customers. Perhaps making prices on certain items more competitive, or doing more price-centric marketing, would help it be more of the go-to retailer in those markets.
I can see why Lowe's might be squeamish about leaning too hard into low prices, given that its operating margins consistently have lagged those of the competitor it is looking to catch.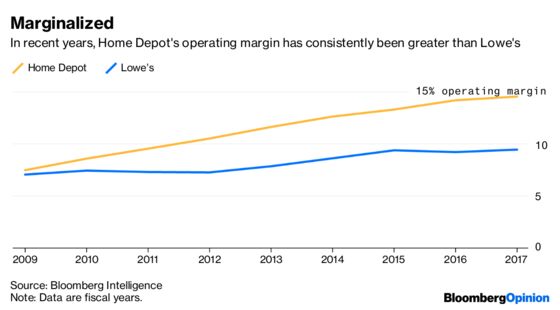 But Ellison is already working to make Lowe's a better operator through efforts such as rethinking labor allocation and inventory management.  Perhaps becoming more disciplined in those areas will give Lowe's room to invest in lower prices.
Lowe's store portfolio is a built-in challenge. But it still has plenty of opportunity to close the gap with Home Depot. 
This column does not necessarily reflect the opinion of the editorial board or Bloomberg LP and its owners.
Sarah Halzack is a Bloomberg Opinion columnist covering the consumer and retail industries. She was previously a national retail reporter for the Washington Post.
Elaine He is Bloomberg Opinion's data visualization columnist in Europe, focusing on business and markets coverage. Before joining Bloomberg, she was a graphics editor at the Wall Street Journal and the New York Times.