Low-Volatility Stocks Are Easing the Pain Caused by Bond Rout
(Bloomberg) -- Investors seeking shelter from the deepest sell-off in U.S. stocks since April and a surge in volatility have had few places to hide.
Rising rates are at the heart of the retreat in equities, with strategists fretting over the potential breakdown in the correlation between stocks and bonds that's cushioned portfolio returns for decades. Gold, meanwhile, has fallen along with the S&P 500 Index for the past five sessions.
But low-volatility stocks are living up to their name. The Invesco S&P 500 Low Volatility exchange-traded fund, ticker SPLV, is treading water this week, besting the broad U.S. equity market by the most since March.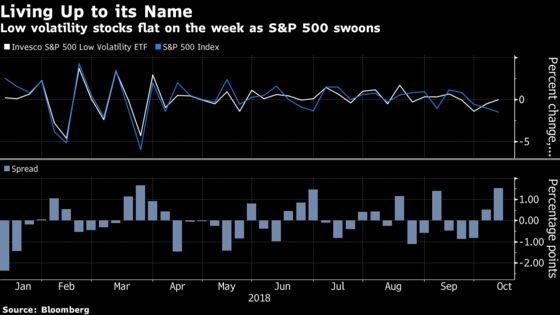 And March's relative outperformance didn't include any absolute performance, with the product giving back 4.3 percent alongside the S&P 500 Index's 6 percent drubbing. As the saying goes, investors can't eat relative returns.
The $7.6 billion fund owns stocks including Coca-Cola Co., Pfizer Inc., Consolidated Edison Inc. and Procter & Gamble Co. Roughly half its holdings are weighted toward electric, REIT and insurance companies.