Low Volatility Lures Emerging Market Funds to Malaysian Bonds
(Bloomberg) -- Malaysian bonds have an advantage over their peers when it comes to attracting investors -- low volatility.
The sovereign debt has comparable volatility to Singapore and South Korea, yet offers almost twice as much yields, according to Bloomberg calculations. That may explain why Malaysian bonds have gained every month since May, even as the government disclosed borrowings were 60 percent higher than thought and rating companies fretted over the widening budget deficit.
Global funds bought $1.1 billion of Malaysian securities in October, the most in 11 months, as investors returned to emerging Asian markets. This is a turnaround from May and June when they dumped almost $3 billion after an unprecedented change in government saw the return of former Prime Minister Mahathir Mohamad. Bond traders will remember him for imposing capital controls during the Asian financial crisis.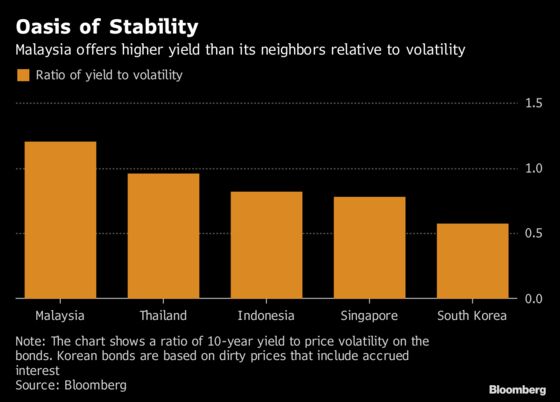 "We are seeing renewed interest in Malaysia government bonds from emerging-market investors", said David Beale, co-head of the institutional client group for Asia Pacific at Deutsche Bank AG in Singapore. It's an acknowledgment of "improved political stability, depth in market liquidity and relatively low rates volatility compared to elsewhere in the region," he said.
The ringgit is also well-behaved with three-month realized volatility the lowest among Asian currencies after the pegged Hong Kong dollar. The currency itself has lost just 3.6 percent this year amid the rout in emerging-market peers.
The table below shows the ratio of yields versus price volatility. The yield is based on the month-to-date average of 10-year yields. Volatility is calculated based on changes in bond prices over 60 days. South Korean bonds are quoted on a dirty price that includes accrued interest.
| | | | |
| --- | --- | --- | --- |
| Country | Yield | Volatility | Ratio |
| Malaysia | 4.13% | 3.44% | 1.20 |
| Thailand | 2.80% | 2.95% | 0.95 |
| Indonesia | 8.19% | 10.05% | 0.82 |
| Singapore | 2.49% | 3.18% | 0.78 |
| South Korea | 2.24% | 3.91% | 0.57 |