Low Returns Squeeze Chinese Savers Out of Comfort Zone
Low yields are forcing Chinese savers to take more risks for better returns.
Jayden Tong, a 34-year-old internet product manager in the eastern city of Hangzhou, recently convinced his parents to switch out half of their investment in a popular money market fund into stock funds, in search of higher-yielding options in which he has also invested.
"I'm expecting around 15% return from my stock investment over the coming year, and for that kind of return I'm willing to stomach higher risks," Tong said. "The fundamentals are already pretty bad because of the pandemic, so things can't get much worse."
That's a snapshot of the reality for savers in China. Annualized returns on some money-market funds are lower than the interest paid from depositing that money at a bank for a year.
Lenders can provide as much as 1.5 times the benchmark 1.5% one-year deposit rate set by the central bank. But any sweetened offerings are still far lower than the 4.9% jump in consumer prices in the first quarter. Returns on other safe havens are also meager, with the yield on the nation's 10-year government bond dropping to the lowest since 2002 this month.
Here are four charts showing how yields on traditional investment darlings are falling, amid government easing policies to counter the economic fallout from the pandemic, making riskier products more attractive to those willing to venture beyond haven assets.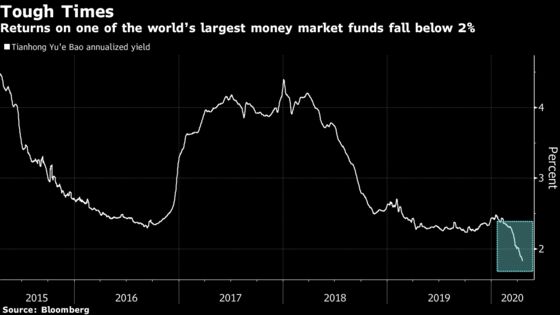 Having long been favored as an alternative to bank deposits, Tianhong Yu'e Bao, one of the world's largest money market funds, is now offering returns of around 1.8%, the lowest since its launch in 2013.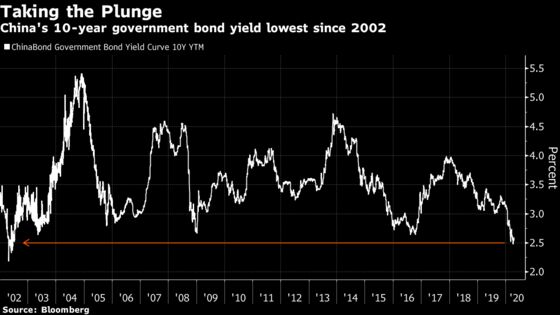 Chinese investors are running short of other options. The yield on 10-year sovereign bonds hit 2.48% on April 8, the lowest since 2002, and that on government notes of other key tenors are at their lowest levels in more than a decade.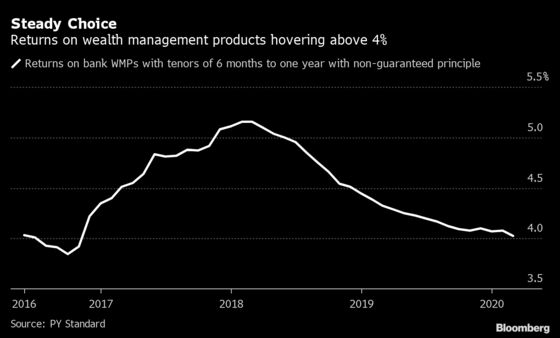 For investors who are ready to take on slightly more risk, putting money in banks' wealth management products can bring returns of above 4%.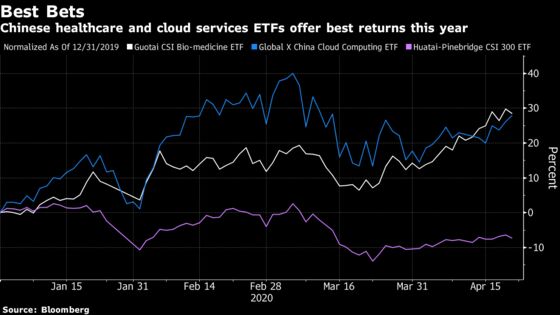 Exchange-traded funds tracking Chinese health care names and cloud computing are easily the best performers this year, yielding at least 20%, as the pandemic boosted demand for the services. Guotai CSI Bio-medicine ETF and Hong Kong-listed Global X China Cloud Computing ETF are up by around 29% year-to-date. In contrast, Huatai-PineBridge CSI 300 ETF, which is linked to one of the nation's benchmark equity indexes, is down by about 7% during the same period.
Although the A-share market retreated from February highs, nearly 1.9 million retail investors opened new stock trading accounts in March, the most in one year, according to the latest figures from China Securities Depository and Clearing Co.