Low Rates Fuel Biggest Home Price Surge Since February 2006
(Bloomberg) -- U.S. home prices surged in January, jumping the most since 2006 as historically low mortgage rates fueled the pandemic real estate rally.
The S&P CoreLogic Case-Shiller index of national property values climbed 11.2%, beating the median estimate of 10.5% in a Bloomberg survey of economists. The increase followed a 10.4% gain in December and was the biggest jump since February 2006.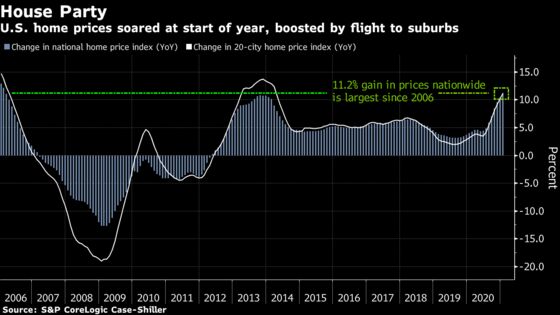 "The trend of accelerating prices that began in June 2020 has now reached its eighth month," said Craig Lazzara, global head of index investment strategy at S&P Dow Jones Indices.
Cheap borrowing costs have powered the housing market. Rates for 30-year mortgages plunged to a record low 2.65% in January, boosting borrowing power as Americans sought larger properties in the suburbs. With few homes to buy, bidding wars have fueled a frenzied market that has seen prices surge in recent months.
Sales of previously owned homes in the U.S. declined in February to a six-month low, reflecting a record annual drop in the number of available properties.
An S&P Case-Shiller index of values in 20 cities jumped 11.1% compared with a year earlier. That was the biggest gain since March 2014. Phoenix (15.8%), Seattle (14.3%) and San Diego (14.2%) posted the biggest increases.
The tailwind provided by low borrowing costs may ease, with concern about broader inflation pressures helping to fuel a selloff in Treasuries. Since finding a nadir in January, mortgage rates have risen to 3.17%, the highest in more than nine months.
In a separate report on Tuesday, the Federal Housing Finance Agency -- which derives its data from mortgages that conform to Fannie Mae and Freddie Mac limits -- reported home prices gained 1% in January from a month earlier. That missed the estimate of 1.2% and was the smallest month-over-month gain since June.
"While house prices experienced historic growth rates in 2020 and into the new year, the monthly gains appear to be moderating" said Lynn Fisher, FHFA's deputy director of the Division of Research and Statistics.