Los Angeles Teachers Go on Strike in Echo of National Fight
(Bloomberg) -- Tens of thousands of teachers in Los Angeles walked off the job Monday after months of negotiations between their union and the second largest U.S. school district failed to resolve long-simmering disputes over pay raises, class sizes, inadequate support staffing and public funding for charter schools.
This is the first strike in 30 years to hit the district that serves more than 600,000 students. The teachers, counselors and nurses have been working under a contract that expired more than a year ago. The union Friday rejected a last-minute offer from the district promising additional funding expected from Governor Gavin Newsom's proposed budget.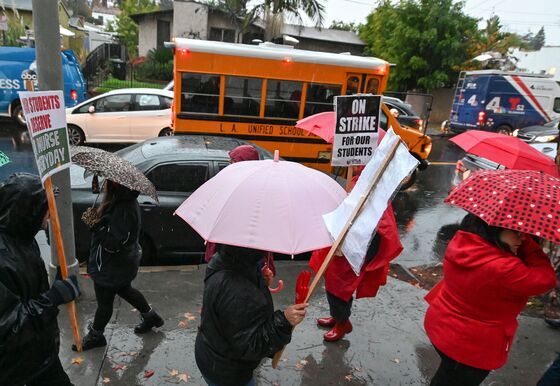 The dispute is different from the so called "red state teachers revolt" that led to prominent strikes in Arizona, Oklahoma, West Virginia and Kentucky, where teachers challenged austerity measures pushed by Republican legislatures that crippled school budgets. In Los Angeles, the more than 30,000 teachers are battling union-friendly Democrats.
School officials say that while they have a sizable reserve now at about $1.8 billion, that money will dwindle in the next few years because of growing pension and health-care benefit costs and that the price tag of the union's demands would bankrupt the district.
The strike hits a district with an overall budget of $13.7 billion and more than $10.2 billion in outstanding long-term debt. So far, bond investors have shrugged at the possibility of a walkout, though they are watching to see how a new contract might impact the district's credit down the road.
"This isn't a strike born out of the district being in financial distress," said Tom Schuette, co-head of investment research and strategy at Gurtin Municipal Bond Management, which owns some of the district's securities. "The district is in good shape financially."
"The bigger story will be trying to get your arms around whatever settlement they come to," he added. "When they come to an agreement, that's something from a credit standpoint you want to dig into, in terms of the district's funding moving forward."
On Monday, Fitch Ratings said it didn't expect that the strike will cause it to downgrade the school district's bonds. It cut the district's rating to A from A+ in September, taking into account the ongoing labor dispute.
The district has offered teachers a 6 percent pay raise spread over the first two years of a three-year contract. The union wants a retroactive 6.5 percent raise that would take effect all at once. The union also wants more teachers hired to reduce class size and more nurses, librarians and counselors. They also want a limit on how much public money the district spends of private charter schools.
Los Angeles School Board President Monica Garcia said in a message emailed to parents Sunday that schools would be open for instructional programs. School administrators braced parents for a school day that would include younger children massed in the auditoriums and older ones kept in groups on the schoolyard. Both would be supervised by teacher assistants and school district staff.
Many parents chose to not take their kids to school. In Encino, a wealthy Los Angeles neighborhood, parents banded together to take turns staying home from work and supervising kids in groups of five. Second City, the famous comedy troupe, offered a free day of improv camp to students not attending school.
On Monday, the union set up tents outside of schools, and teachers marched on picket lines in ponchos during a torrential rain. They carried printed signs, which had been distributed to schools last week, in English and Spanish, with slogans like "Protect Our Schools, Limit Charter School Growth."