Lori Loughlin Says College Scammer's Notes Show She's Innocent
(Bloomberg) -- "Full House" star Lori Loughlin and 13 other parents fighting bribery charges in the U.S. college admissions scandal asked a federal judge to throw the case out, claiming they're the ones who were scammed -- by the government.
New evidence shows that the FBI pushed the corrupt admissions consultant who admitted to leading the racket to make up evidence against them, the parents argued in a filing in Boston on Wednesday night.
"For government agents to coerce an informant into lying on recorded calls to generate false inculpatory evidence against investigative targets -- and to then knowingly prosecute those targets using that false evidence -- is governmental malfeasance of the worst kind," the defense said.
They accused prosecutors of hiding exculpatory evidence while squeezing guilty pleas out of other parents through "scorched-earth prosecutorial tactics" in which parents faced additional charges if they didn't admit guilt.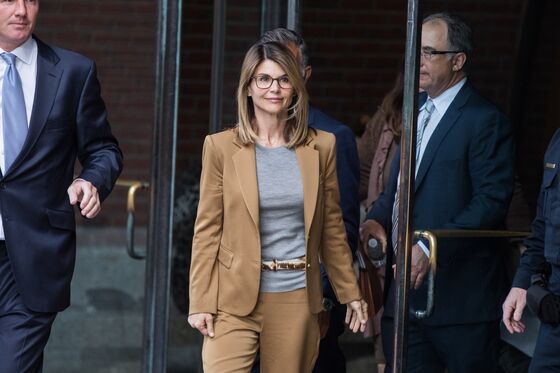 Prosecutors have conceded in court that they should have handed over some evidence earlier. The initial charges were brought a year ago. It was only last month that the government revealed that the admissions consultant, William "Rick" Singer, made notes in 2018 in which he said he felt pressured by investigators "to tell a fib" during secretly recorded phone calls with the parents.
The defense attorneys claim that investigators coached Singer to set up the parents through scripts implying they knew they had bribed college sports coaches and administrators. In FBI interviews with Singer, he said that in his sales pitch he told the parents their money would go to college sports programs for underprivileged children, the lawyers told the court.
Prosecutors, who are scheduled to answer the defense allegations in a filing due by April 7, have said the phone calls show the parents knew they were engaging in fraud or bribery. They say they didn't hand over Singer's notes to the defense earlier because they believed the information was confidential between Singer and his attorney. Singer's lawyer later waived the privilege.
The U.S. claims that Loughlin and her husband, the fashion designer Mossimo Giannulli, paid $500,000 for Singer's "side door" admissions scheme to get two daughters into the University of Southern California as rowing team recruits. Singer fabricated an elaborate rowing resume for the younger daughter, according to court papers.
The defense filing included transcripts of phone calls never before shown to the public. In one call, a week before Loughlin was arrested, she told Singer she was confused about why investigators had subpoenaed her daughters' school records. She sought assurance that she and her husband's donations were legitimate.
"It's all on the up-and-up … right?" Loughlin said, according to a transcript of the March 4, 2019, call prosecutors gave her defense.
"Yeah, I have no idea," Singer replied. "I mean, uh, I have no idea because I don't know why they would go after the kids' high school records."
More than 20 parents have pleaded guilty to fraud charges in the case, and many have already served prison sentences. In a joint letter on March 9, their attorneys accused the government of violating rules by not handing over evidence and said they would "fully explore what other exculpatory information exists."