Long-End Yields Surge in Biggest Treasury Selloff Since January
(Bloomberg) -- The selloff in Treasuries sent the yield on the 30-year bond surging on Wednesday, putting the long-end benchmark on track for its biggest one-day advance since early January.
Rates climbed across notes and bonds, with the long-end increasing most and the curve steepening. The 30-year yield jumped by around 11 basis points at one stage, hitting a one-year high of 2.29%, while the 10-year rate rose as much as 9 basis points to 1.43%.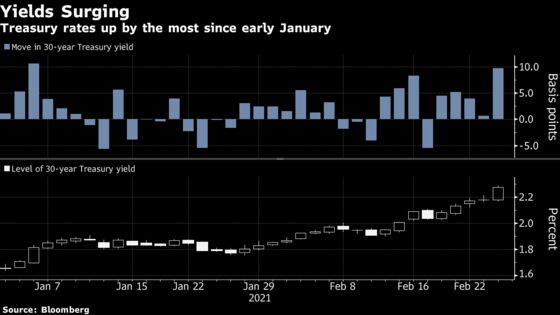 Global bond markets are suffering this year amid the prospects for U.S. stmulus and a surging reflationary narrative, with volatility gauges climbing to multi-month highs. That's prompted fears over a potential tantrum in havens, such as Treasuries and German bonds. While Federal Reserve Chairman Jerome Powell this week called the recent run-up in bond yields "a statement of confidence" in the economic outlook, the move raises pressure on central banks to keep financing conditions easy.
"The market is nervous about additional stimulus, worried about the risks of higher inflation, and concerned about QE tapering," said Gennadiy Goldberg, senior U.S. rates strategist at TD Securities. "The selloff is likely being exacerbated by convexity hedging and positioning stop-outs."