London's Luxury House-Price Recovery to Be Delayed by a Year
(Bloomberg) -- The long-awaited recovery in home prices in London's wealthiest districts has been derailed by the coronavirus.
Prime central city prices fell 1.2% in the three months through June as the lockdown discouraged overseas buyers, according to broker Savills Plc. That followed a 0.9% bounce in the previous quarter, the first such increase in more than four years, as the decisive December election eased political concerns and boosted activity.
The broker now predicts annual growth to return in 2021, a year later than previously forecast.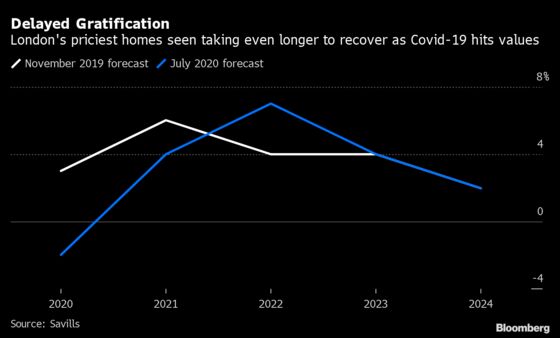 "It is clear that many overseas buyers are yet to return to the market," Lucian Cook, head of residential research at Savills, said in a statement. "While we expect London to continue to attract safe-haven investment as the market reopens fully, the rate of price growth will be slower than in previous upturns."
Prices in London's most exclusive areas are set to fall by 2% this year, according to the agent's revised forecast. It expects a 4% increase next year and growth accelerating to 7% in 2022.
Prior to the March 23 lockdown, prices were 20% below their 2014 peak, according to Savills.