London Homes Set for Second Annual Price Decline in 23 Years
(Bloomberg) -- London home values will close the year lower for only the second time since 1995 and the drop may accelerate as affordability and the effect of Brexit continue to drag down the market.
Prices are set to close down 0.1 percent this year and may drop 2 percent over 2019, according to property researcher Hometrack. That's the first decline since a 13.2 percent drop in 2008 in the wake of the financial crisis.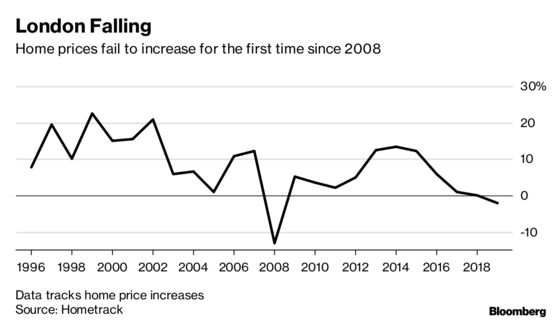 London's property market slump has spread from luxurious central districts to the periphery, hit by uncertainty over the outcome of Brexit, a shaky economy and prices that have outpaced average wages for years. It now costs the average Londoner 13.3 times their annual salary to purchase a home in the capital, down from a record of 14 times income in 2016, Hometrack estimates.
"Recent house prices falls are doing little to materially change the affordability picture in London," said Richard Donnell, head of research and insight at Hometrack. "Our estimated fall in 2019 will bring the price to earnings ratio down to 12.8 time salaries -- levels last seen in 2015 -- but that will still be too high."
The report adds to numerous indications of a slowing market. Halifax said U.K. house prices are rising at the slowest pace in six years and an index of prices by the Royal Institution of Chartered Surveyors slipped in November to the weakest level since 2012.
Hometrack predicts that city home prices in the U.K. will increase by 2 percent in the coming year, boosted by markets that are more affordable relative to income.