London Finance Firms Warned by EU Not to Expect Quick Market Access
The European Union's commissioner for financial services said the bloc isn't under any pressure to help London financial firms access the market and warned there won't be any decisions soon while Britain plots different rules for the industry.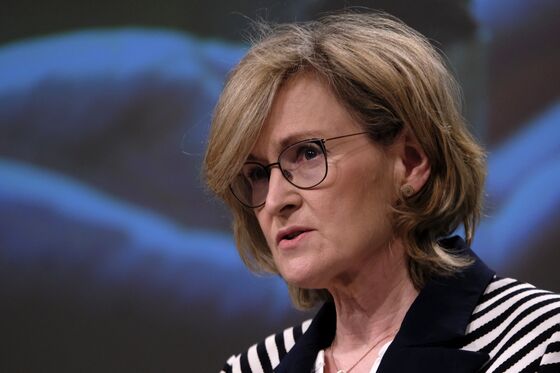 Mairead McGuinness said in an interview Wednesday that the EU could hold a meeting on market access issues by the middle of the year, but it is still in the process of finalizing the memorandum of understanding on post-Brexit regulatory cooperation agreed last month.
"I know there probably is an appetite on the U.K. side for us to sit down and get going," McGuinness said. "We are certainly very keen to do that, but we're not under pressure to do it."
McGuinness said that the EU's interest is in protecting the financial stability of the bloc and authorities intend to scrutinize the U.K.'s plans to diverge from the EU's financial standards.
"There isn't any haste here," she said. "There is no pressure. There is no panic."
Since Brexit took effect at the beginning of 2021, London-based financial firms haven't been able to operate freely in the bloc, forcing banks like JPMorgan Chase & Co. and Goldman Sachs Group Inc. to move billions of dollars in assets and thousands of staff to the continent. The trade agreement signed by the two sides last year largely sidelined the finance industry, and the EU has said since that it's in no rush to grant the equivalence rulings that would restore British firms' trading rights.