London Air Pollution Listed as Cause of Young Girl's Death
(Bloomberg) -- Air pollution was a significant factor in the death of a 9-year-old girl in south London, the first time air quality has been cited by a British coroner as a cause of death.
Ella Adoo-Kissi-Debrah died in February 2013 after an asthma attack that led to cardiac arrest. Poor air quality played a significant role in inducing and worsening her condition, coroner Philip Barlow ruled Wednesday.
The report blaming air pollution raises questions about the country's commitment to tackling environmental problems, especially in the capital, where about 9 million people live and work.
"While the science has been unequivocal for years that air pollution is significant threat to public health, the coroner's unambiguous finding is a legal first and will certainly send a signal to the U.K. government," Katie Nield, a lawyer at environmental law charity ClientEarth, said in an email.
The coroner ruled that during the course of her illness, between 2010 and 2013, Ella was exposed to levels of nitrogen dioxide and particulate matter in excess of World Health Organization guidelines.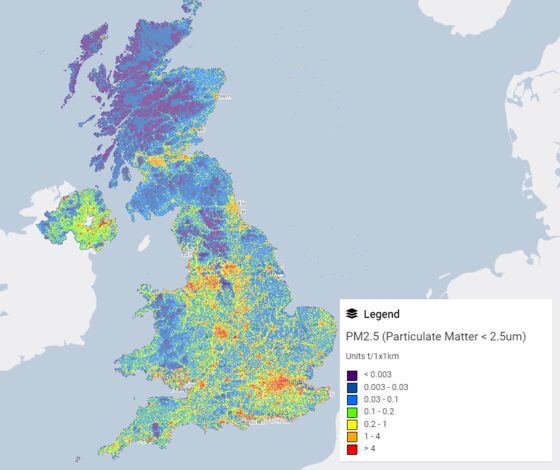 The principal source of the pollution was traffic and there was a recognized failure to reduce the level of NO2 to the limits set by the European Union and domestic law. Prime Minister Boris Johnson was London mayor at the time.
"This was about my daughter getting air pollution on the death certificate and we've got justice for her which is so deserved but also it's about other children still as we walk around our city with high levels of air pollution," Rosamund Adoo-Kissi-Debrah said at a press conference Wednesday. "This matter is far from over."
Britain has been in breach of EU air quality rules for years. Even after it leaves the EU at the end of the month, the limits will continue to apply as they've been transposed into U.K. law.
The government has said it will likely only be able to meet the required standard in 2025 -- 15 years after the deadline. Its air quality plans have been judged in court to be unlawful three times.
A government spokesperson said it's started a 3.8 billion-pound ($5.1 billion) plan to help protect communities from air pollution.
The coroner's report was given the same day that the Supreme Court ruled the government's support for a third runway at London Heathrow Airport didn't violate its climate-change policy. The judges overturned a lower court ruling, which forced the government to review its airport policy in light of environmental legislation.
A loophole in EU pollution standards for diesel cars meant many cities, including London, are still engulfed in toxic levels of nitrogen dioxide, despite a 2010 deadline to bring air quality to healthier levels.
Nield also said the ruling could have implications for the government's Environment Bill, which is currently going through Parliament. The bill requires the government to set a legal limit on fine particulate matter known as PM2.5 but doesn't say at what level it should be.
"While the ruling focused on the cause of Ella's death, and not who was at fault, the case brought to attention how much the government had been aware of its pollution problem for years and how little it was doing to tackle it," Nield said.
London Mayor Sadiq Khan has sought to tackle pollution by extending the city's "Ultra-Low Emission Zone" to include the North and South Circular roads on the outskirts of the city. He's also raised green taxes and promoted car-free transportation in a bid to prevent the return of polluting vehicles when commuters go back to their jobs following the pandemic.
"Toxic air pollution is a public health crisis, especially for our children, and the inquest underlined yet again the importance of pushing ahead" with plans to cut inner-city emissions, Khan said in a statement.