Local Risks Worsen South Africa's Pain Amid Emerging-Market Rout
(Bloomberg) -- South Africa's risk premium widened at a faster rate since the beginning of August than the emerging-market average, suggesting local risks are exacting an added cost amid a broad sell-off of developing-nation assets.
The premium investors demand to hold South African debt rather than U.S. Treasuries, known as the sovereign spread, has climbed 63 basis points since the beginning of August to 336, the highest level since November 2016, according to JPMorgan Chase & Co. indexes. The emerging-market premium increased 43 basis points in the same period.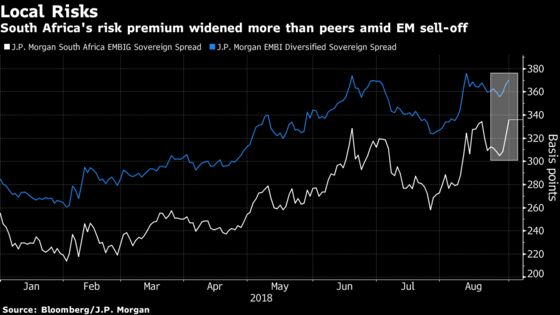 A cocktail of negative economic news, political risks and falling commodity prices accelerated a slide in South Africa's rand and bonds sparked by crises in Turkey and Argentina and escalating trade tensions between the U.S. and China. President Cyril Ramaphosa's announcement on Aug. 1 that the ruling party backed an amendment to the constitution to seize land without compensation has weighed on the currency, along with worries over rules governing mining.
"Emerging-market vulnerabilities have not eased; in fact, they have intensified, which could imply that the rand is likely to remain on the back foot over the near-term," Walter de Wet and Reezwana Sumad, analysts at Nedbank Group Ltd. in Johannesburg, said in a report. The currency could weaken above 15 per dollar if a land-reform Constitutional amendment has the effect of undermining property rights, they said. "Foreign investor sentiment remains a key risk."
The rand weakened 1.1 percent to 14.8452 per dollar by 11:56 a.m. in Johannesburg. Yields on South Africa's $2 billion of 2028 Eurobonds climbed two basis points to 5.9 percent, bringing the increase since the beginning of August to 43 basis points.