Lithuania's President Says Russia Needs to Do More on Ukraine
(Bloomberg) -- A meeting between Russian and Ukrainian leaders in France this week aimed at putting an end to violence in eastern Ukraine was a step in the right direction, Lithuanian President Gitanas Nauseda said. But Moscow has more work to do.
Speaking ahead of a leaders' summit in Brussels, the Lithuanian premier welcomed the latest talks co-hosted by French President Emmanuel Macron and German Chancellor Angela Merkel. Nauseda cautioned, however, that more collaboration from Russia was needed.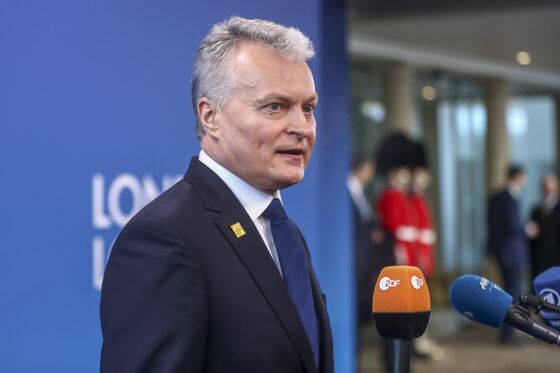 "I would like to see much more willingness from the side of Russia to achieve the final results," Nauseda said. "So far we see the concessions coming from the Ukrainian side."
Russian President Vladimir Putin and his Ukrainian counterpart Volodymyr Zelenskiy agreed at a Dec. 9 summit in Paris to a fresh exchange of prisoners and the withdrawal of some troops, breathing new life into efforts to resolve the violence in eastern Ukraine. Putin and Zelenskiy agreed to meet again in the same format within four months to discuss holding elections in the disputed Donbas region.
Nauseda said sanctions against Moscow should be prolonged "because right now Russia needs motivation to implement all these promises that were reached in the first stage of the negotiations."
"I am optimistic but cautiously optimistic," he said.