Literary Group Apologizes for Author Fracas That Rocked Twitter
(Bloomberg) -- The literary group that set up a dinner where author Anand Giridharadas said he was insulted by its donors has apologized.
PEN America, which champions free-speech and human-rights causes around the world, said it deeply regretted that Giridharadas "was treated rudely and harshly'' at a Feb. 5 event at the Players Club in Manhattan.
Giridharadas, author of "Winners Take All: The Elite Charade of Changing the World,'' recounted the kerfuffle on Twitter, attracting thousands of retweets.
"We deeply regret that the event devolved into anger and rudeness,'' PEN America said in an emailed statement. "We have apologized to Anand directly and profusely for an evening that fell far short of our aspirations for respectful discussion.''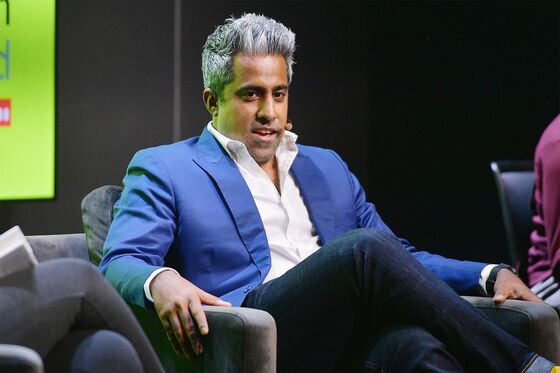 The rift between the donors and Giridharadas, whose book criticizes the rich for putting their personal interests ahead of the fight for justice and equality, makes explicit the tension between wealthy liberals and their progressive critics. It promises more fireworks to come as Trump-era politics raises the temperature and the 2020 presidential election draws ever closer.
PEN America said it sponsors 40 to 50 such fundraising salons a year. Typically, wealthy patrons host the dinners at their homes or at venues such as the Players Club, founded in 1888 for theater people by actor Edwin Booth. A lively exchange of ideas introduced by the author's book is expected to ensue.
Giridharadas agreed to appear after Dan Mallory, author of the thriller "The Woman in the Window,'' written under the pseudonym A.J. Finn, canceled at the last minute. Mallory is the subject of controversy due to a New Yorker article published this week that describes his "trail of deceptions" during a career in book publishing.
In a tweet, Giridharadas said he went to the salon because "it's a good cause, and I feel like I'm enlivening people's retirements.''
Giridharadas said attendees and his host, a woman he didn't name but identified as the author of "a memoir about her empathy for a pet,'' patronized his Indian ethnicity.
"I tried to be pleasant,'' he wrote on Twitter.
The host declined to comment. Her identity has not been publicly disclosed.
The fragile bonhomie soon shattered. The pair came to verbal blows over the naming of buildings after donor David Koch, the billionaire industrialist and small government, anti-tax crusader.
"His name shouldn't be on any building in a city full of people whose rights he has fought to shred,'' Giridharadas said he told the evening's host.
She disagreed, saying she knew Koch and "he gave the money,'' according to Giridharadas. "It's only fair.''
His host asked him, since Giridharadas blamed the very rich for society's problems, how far down the wealth ladder his critique went, according to the author's Twitter.
"Right above you,'' he said, according to his Twitter.
Giridharadas said she accused him of being condescending. He admitted that might have been the case because "these are the people who think they're the resistance but are in fact the reason we have a broken country,'' he wrote on Twitter.
His host's husband told Giridharadas he was "awful,'' the author said on Twitter. In an interview, Giridharadas said he told the room, "F--- you people,'' and left the club.
Giridharadas said his host told him in an email she was sorry for the incident, but he didn't apologize to her. He said he was gratified by PEN America's response. On Twitter, he said the group has been "amazing about this episode.''
"Defending writers clearly isn't just a slogan for them,'' he tweeted.