Turkey's Lira Poised for Steepest Monthly Rout in Two Years
(Bloomberg) -- The latest funding tweaks by Turkey's central bank couldn't stop the lira from hitting a record low as the currency headed for its steepest monthly decline since a rout two years ago.
The decision to end access to liras from the cheaper Borsa Istanbul repo market is the latest step in the regulator's bid to tighten policy and bolster the Turkish currency without resorting to an outright policy-rate hike. The move to cease funding at 11.75% will lead to a higher lira borrowing cost by forcing lenders to rely more on the central bank's late liquidity window.
The lira initially reversed losses, but soon resumed declines against the dollar. The currency has hit a record low every day this week and was down 1% at 8.3731 as of 5:25 p.m. in Istanbul. That was the biggest drop among its emerging-market peers on Friday and put it on track for a 7.8% slide in October.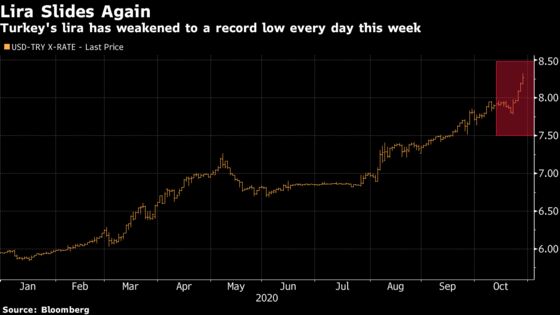 The latest development comes after the central bank stunned investors by holding the one-week repo rate steady last week, while increasing the late liquidity window, a marginal source of lending originally intended for emergency funding.
The decision quashed hopes that the monetary authority was determined to tighten policy and curb inflation. Investors had welcomed the central bank's surprise move to raise interest rates by 200 basis points to 10.25% at its September meeting.
Uncertainty in the run-up to U.S. elections next week has added pressure on the lira as it damps appetite for riskier assets. Traders are paying particular attention to the American presidential contest given the potential for Democratic candidate Joe Biden to take a harsher stance with Ankara if he wins the race.
While some investors have called for an emergency hike to stem the lira's drop, Kieran Curtis, London-based director of investment at Aberdeen Asset Management Plc., said the central bank would leave any decision on tightening until its scheduled November meeting.
"One of the main causes of the acute weakness a couple of years ago was a really big liquidation of foreign holdings of domestic securities," Curtis said. "The stock just isn't big enough to be this kind of driver any more."
The weighted average cost of lira funding rose by 21 basis points to 13.08% on Wednesday, amounting to a 574 basis points rate hike from as low as 7.34% in July.
"In the period ahead, we can take all the necessary steps, including on policy interest rates," Governor Murat Uysal said in the central bank's quarterly inflation briefing on Wednesday. The lira is "extremely undervalued," he said.
Uysal said the central bank doesn't target a particular exchange rate, but he warned that a weak lira poses risks to price stability and said the regulator will maintain tight policy until inflation improves.