Lira's Down, But There's Value in Turkey Assets After Rate Hike
(Bloomberg) -- President Recep Tayyip Erdogan may not have got the reaction he wanted for Turkey's emergency rate hike yet. When the dust settles, and fundamentals override sentiment, investors may see value in the country's assets.
A look at real yields, the bond curve and corporate earnings reveals a much-improved risk-reward equation.
The gap between Turkey's main interest rate and inflation has been widening since November 2017. The country's once-negative real yield has turned into one of the best returns in the world.
The spread between the main policy rate, which was raised to 16.5 percent on Wednesday, and the consumer price index has climbed to 5.65 percentage points, compared with real returns in Russia and South Africa of 4.85 percentage points and 2 percentage points, respectively.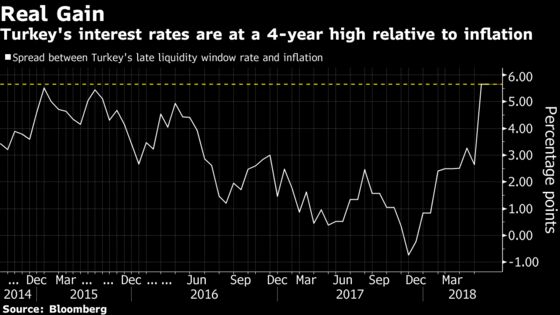 For some time, investors have seen better value in Turkey's long-end bonds as they expect inflation to moderate in the longer term. Ten-year bond yields fell below their 2-year counterparts in early 2017, and are now 257 basis points lower, the widest gap on record.
"For opportunistic investors, Turkey 10-year at around 15 percent must have proved attractive as they assumed that the lira should stabilize," said Piotr Matys, an emerging-market currency strategist at Rabobank in London. "It proves the notion that once the lira is seen as sufficiently stable, demand for Turkish bonds and also stocks should improve."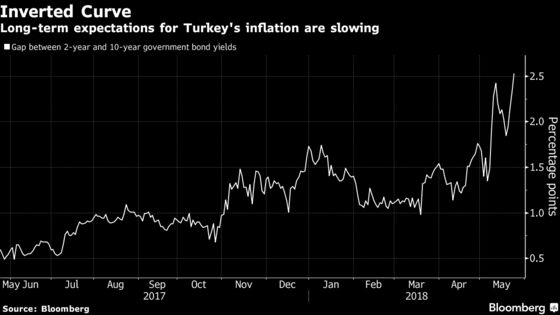 Corporate profits in Turkey have been beating analysts' average estimates for almost a year. Analysts may be too pessimistic. In India, by comparison, earnings haven't met estimates since August 2014, but analysts' expectations are near a record high.
To get a share of all this outperformance by Turkish companies, investors pay less than $7 for each dollar of projected profit, compared with almost $12 on average across emerging markets.