Lira Swings, Turkish Bonds Gain After Court Frees U.S. Pastor
(Bloomberg) -- The lira swung between gains and losses after a Turkish court freed a U.S. pastor after a two-year-long detention, paving the way for a thaw in ties with Washington. Bonds and stocks gained.
The lira was expected to extend an advance on the release of Andrew Brunson, yet investors held fire after a five-day rally fueled by speculation his release was imminent. The pastor was sentenced to more than three years in jail but freed on time served, over his alleged involvement in a 2016 coup attempt.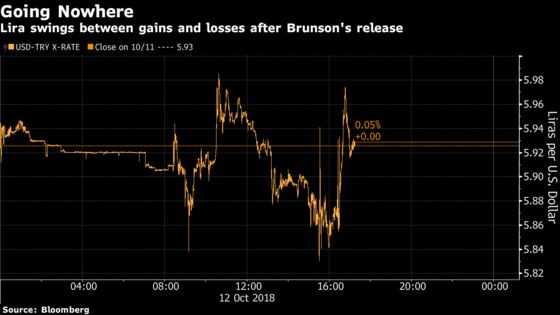 "I was expecting the lira to appreciate a bit and then dollar-lira to hit a rock bottom in the coming days," said Cristian Maggio, the head of emerging market research at TD Securities in London. "While things can still develop in that direction, the absence of a knee-jerk reaction suggests that dollar-lira had already all the good news in the price."
An unprecedented diplomatic breakdown between the NATO allies over the case compounded an almost 40 percent depreciation in the currency this year. The U.S. imposed sanctions on Turkey over Brunson's continued detention in August, and his release and could go some way toward restoring battered investor confidence, stemming an outflow of foreign capital as the Turkish economy slides toward a recession.
The lira was little changed at 5.9258 per dollar, after gaining as much as 1.6 percent earlier to its strongest level in two months. The currency's deprecation this year gave way to the fastest inflation in 15 years, piled pressure on companies reeling under a heavy foreign-currency debt load, and forced the central bank into nearly doubling its benchmark rate to contain the rout.
The yield on 10-year government bonds fell as much as 105 basis point to 19.02 percent, a more than one-week low. The Borsa Istanbul 100 Index rose 1.5 percent, led by gains in steel maker Eregli Demir ve Celik Fabrikalari TAS.