Lira Has Steadied But Summer Plunge Hangs on Turkish Growth
(Bloomberg) -- A recent respite in Turkish markets hasn't shielded companies from a toxic mix of high debt and interest rates, and that's bad news for the country's economic growth outlook.
The currency crisis that peaked in August and a spike in the central bank's benchmark rate in September have crippled some companies, reducing demand for new loans and investments. The slump, coupled with weak consumer demand, is liable to hamper growth in the third quarter and produce an economic contraction in the fourth and possibly beyond, according to Inan Demir, an economist at Nomura International Plc in London.
"Compared to previous instances when Turkey has seen a V-shaped recovery, the most important difference is the high leverage in the economy," he said.
Moody's said in a report in November that Turkey's economy will probably shrink through the first half of next year. It forecast 1.5 percent growth in 2018 followed by a 2 percent contraction in 2019. The International Monetary Fund predicts growth will slide to 0.4 percent in 2019 from 3.5 percent this year due to a weaker lira and higher borrowing costs.
Citi Research expects an even more dramatic contraction. The bank cut its 2018 growth forecast to 3 percent from 3.5 percent and sees the economy shrinking 3.3 percent next year due to weak domestic demand, it said in a report.
Turkey's statistics institute will publish third-quarter growth data on Dec. 10.
A sluggish economy is not what President Recep Tayyip Erdogan wants ahead of local elections in March seen as a barometer of support for his policies. Erdogan has built his political success mostly on economic growth boosted by credit and demand, but some economists say that was an unsustainable growth strategy that has reached its limits.
The government, however, shows little sign it's changing tack. It recently cut taxes on cars and big-ticket kitchen appliances until year's end ahead of the balloting.
"What we have seen in previous years was a push to boost demand in order to achieve growth above the economy's potential. Now we are paying the price of that decision," said Refet Gurkaynak, professor of economics at Bilkent University in Ankara.
"This time we'll grow below potential," Gurkaynak said, predicting that unemployment would go "through the roof." Turkey's joblessness rate is 11.1 percent.
Although the lira has partially recovered from the loss of almost half of its value against the dollar in August, the rout took its toll on balance sheets of companies that sit on $324.5 billion of foreign currency liabilities. They're still showing a $210.1 billion shortfall when netted against their assets.
Furthermore, the central bank's 625-basis-point interest rate increase in September to stop the lira's plunge pushed up average corporate loan rates as high as 36 percent in September.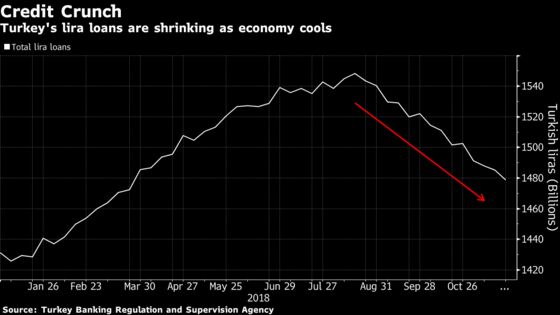 What makes this slowdown different is that it's rooted in corporate indebtedness rather than government debt.
Corporate and consumer loans over a rolling 13-week period and adjusted for foreign-currency fluctuations -- a gauge tracked by the central bank -- declined more than 10 percent as of Nov. 23, according to the official data. Central bank Governor Murat Cetinkaya has said the recent figures were below historical averages.
"Banks are even making it difficult for my company to get loans, despite our limited currency risk thanks to exports," said Laura Gok, the founder of Turkish textile chemicals manufacturer Resas Chemie. Her company has annual revenue of 50 million liras ($9.5 million) and exports almost everything it produces to Bangladesh. "Lenders should be more supportive of producers in a time like this."