Lira Relief Proves Short-Lived as Fitch Warns on Monetary Policy
(Bloomberg) -- Turkey's lira fell to a new record, reversing earlier gains, after Fitch Ratings said it was concerned about the erosion of the central bank's independence to fight double-digit inflation.
Discretionary policy making may come under pressure after next month's elections, increasing the threat to the country's credit profile, Fitch said in a statement. Investors have knocked down the lira to successive lows ahead of its June 7 policy meeting.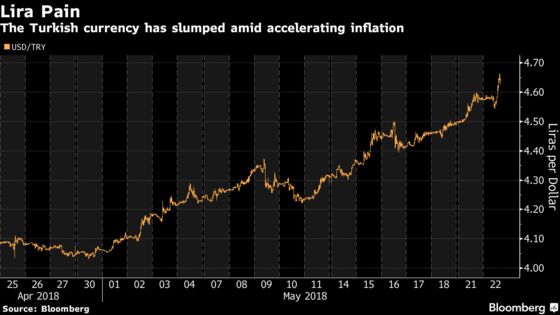 "While the lira is at excessively weak levels, policy action from the central bank will be required for recovery," Erkin Isik, a strategist at Turk Ekonomi Bankasi, wrote in a note to clients on Tuesday. Financial markets suggest that investors are "pricing-in significant rate hikes," he said.
The lira traded 1.5 percent lower at 4.6455 per dollar after sliding as much as 1.9 percent earlier. The currency has slumped about 12 percent this month alone, with only the Argentine peso having plunged more.
Despite the drop in the lira, Turkish bonds fared better on Tuesday. The yield on benchmark 10-year notes fell 13 basis points to 14.98 percent.
The weakness in the lira will eventually evoke a response from the central bank, according to Brown Brothers Harriman & Co.
"This move is getting beyond stretched," said Win Thin, a New York-based strategist at Brown Brothers. "I would not want to go short here as I expect the central bank will eventually give in and hike rates sharply if we continue to see a free fall." The central bank "simply can't ignore this," he said.